Allen concedes frame with 11 reds remaining to hand Carter the match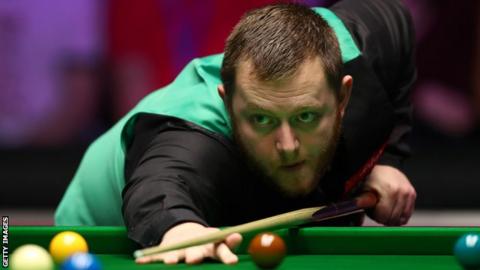 Mark Allen was unrepentant despite facing a fine for conceding his game against Ali Carter in bizarre fashion at the World Grand Prix in Cheltenham.
The Northern Ireland man, 32, was 24-2 down in frame five when he conceded, having gone in off after missing a yellow, to leave Carter a 4-1 winner.
There were 11 reds left on the table at the time – and a possible 115 points.
Asked if regretted his actions, Allen replied: "Not at all. I don't regret much that I've done over the years."
Describing the playing conditions of the match table as "disgusting", Allen added: "It's out of character but it's just the way I felt today.
"What's the point of the audience watching me miss more and more?
"I felt like I had to hit the ball so hard to move the white. It was really heavy and then you get annoyed because you look over at table two and it looks to be playing beautifully."
Allen, who has won the International Championship in China and the Scottish Open this season, added: "I think if I had played on I would have smashed my cue up."
The rules from snooker's governing body, the World Professional Billiards and Snooker Association, state that "each member shall perform and compete to the best of his ability in each tournament in which he competes".
Players are subject to disciplinary action if they concede a frame it is mathematically possible to win and Ronnie O'Sullivan and Liang Wenbo have previously been fined for such an action.
A surprised Carter told ITV: "We both started missing a lot and I think Mark missed the yellow there and he just saw red."
He added: "We've all done it and fortunately for me it gives me the match, but I didn't want to win like that."
Carter will next face last week's German Masters runner-up David Gilbert, who beat Ding Junhui 4-0.
Gilbert, who made the 147th official 147 maximum break last month, rolled in breaks of 101, 66 and a total clearance of 138.