Anderson 'worried' for future of Test cricket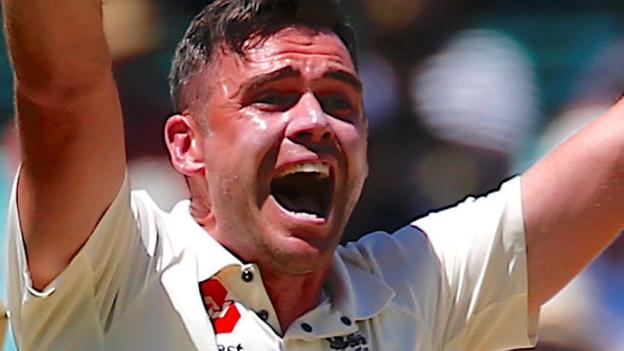 England's James Anderson says he is "worried" about the future of Test cricket after three internationals signed white ball-only contracts.
Adil Rashid, Alex Hales and Reece Topley announced last month they would not be playing in the 2018 County Championship.
Anderson is concerned the lure of more money will encourage younger players to choose limited-overs cricket.
"I just pray there is enough love for Test cricket out there," he said.
"With the way cricket is going and the amount of Twenty20 cricket around the world, there is that worry that more and more people will start doing it."
The white-ball game is becoming increasingly popular among players because of the lucrative sponsorship deals on offer in the Big Bash and Indian Premier League.
Leg-spinner Rashid will only play white-ball cricket for Yorkshire during the 2018 season, while opener Hales has signed a new limited-overs deal with Nottinghamshire for the next two years.
Hampshire seamer Topley has made the decision as part of his rehabilitation from a recurrence of a stress fracture in his back last summer.
Anderson says Test cricket is adapting with the introduction of pink-ball cricket and day-night Tests, but fears it will not be enough to attract some players in future.
"The next generation of players coming through might see that as a way to go if they want to find a career in cricket," added Anderson, who is fifth on the all-time Test wicket-takers list with 523.
"It's a lot less hours on the field playing, it's a lot easier on the body and the mind, and it potentially could be more [lucrative] in terms of the money they can make around the world."
England beat New Zealand by six wickets on Wednesday to level the one-day series at 1-1 following a three-wicket defeat in the series opener in Hamilton.
Anderson is keen to see the one-day side's positive mentality translate into England's Test cricket following their 4-0 Ashes defeat by Australia.
"We want to try and play with the positivity the one-day side play with," he said.
"In Test cricket, that can be difficult. We want to put the opposition under pressure whenever we get the chance."