Athletics World Cup: Great Britain third in inaugural staging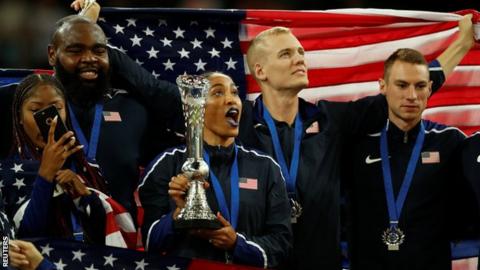 Athletics World Cup
Coverage: Highlights on Saturday 21 July, BBC One and Red Button
Great Britain finished third in the inaugural Athletics World Cup at London Stadium, thanks in part to a surprise victory in the women's 4x100m relay.
British anchor Shannon Hylton held off fast-finishing Jamaican Tissanna Hickling for the hosts' solitary win on the second day.
Britons Morgan Lake, Nick Miller and Adelle Tracey won silvers in the high jump, hammer and 800m respectively.
The United States came top of the overall standings, clear of Poland.
The winners share a prize pot of almost £350,000.
"We are a diverse country and to see this team be so diverse, I am proud to be American just now," said United States captain Queen Harrison.
"It is fantastic to be the first winners of the Platinum trophy – every other country will have to come and live up to that and try to win it and we will really want to come back and win it again."
Former world champion Dai Greene, representing Britain for the first time since 2013 after a run of injuries, came third in the 400m hurdles.
Ojie Edoburun came fourth in the 100m, while team-mate Beth Dobbin marked her international debut with a third in the 200m and Neil Gourley won bronze in the 1500m.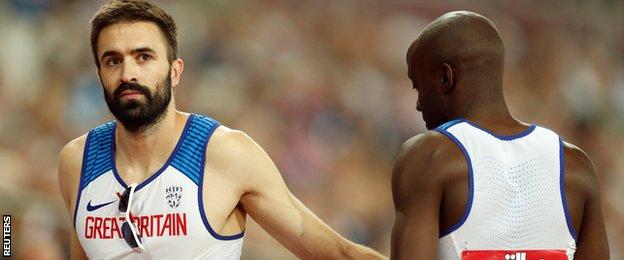 There was confusion before the 4x400m relay, the final event on the track, when Britain were forced to withdraw just before taking to their blocks because of an injury to anchor Cameron Chalmers.
Elsewhere American Sam Kendricks, who won the world title on the same stage last summer, was victorious in the pole vault with a leap of 5.83m.
Final Athletics World Cup Standings
1. United States 219 points
2. Poland 162 points
3. Great Britain 155 points
4. Jamaica 153 points
5. France 146 points
6, Germany 137 points
7. South Africa 135 points
8. China 81 points