Australia's Smith & Warner step down from roles for rest of Test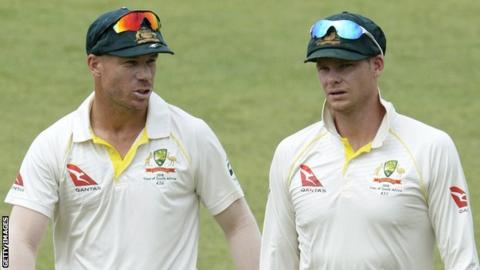 Australia captain Steve Smith and vice-captain David Warner have stepped down from their positions for the rest of the third Test against South Africa a day after a ball tampering incident.
Smith said on Saturday that the team's "leadership group" had spoken about a plan to tamper with the ball, carried out by batsman Cameron Bancroft.
Tim Paine will be captain for the rest of the match, although Smith and Warner will continue to play.
The match is into its fourth day.
"This Test match needs to proceed, and in the interim we will continue to investigate this matter with the urgency that it demands," said Cricket Australia chief James Sutherland.
"Cricket Australia and Australian cricket fans expect certain standards of conduct from cricketers representing our country, and on this occasion these standards have not been met.
"All Australians, like us, want answers and we will keep you updated on our findings, as a matter of priority,"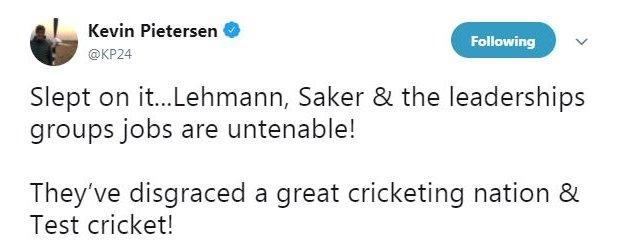 The ball-tampering incident took place on the third day of the third Test in Cape Town – escalating the tension around what has been an ill-tempered four-match series, which is level at 1-1.
Television footage showed Bancroft take what he said was yellow tape out of his trouser pocket before rubbing the ball.
The 25-year-old revealed he had been charged by the International Cricket Council (ICC) with attempting to change the condition of the ball, which is prohibited by Law 41.3, although the ICC – cricket's governing body – has yet to make any public comment on the incident.
Smith said after play that it was a "big mistake" but that he would not stand down. He said the team's "leadership group" had spoken about the plan and "thought it was a way to get an advantage".
The Australian Sports Commission (ASC) called for Smith "to be stood down immediately, along with any other members of the team leadership group or coaching staff who had prior awareness of, or involvement in, the plan".
Prime minister 'shocked and disappointed'
Australia's prime minister Malcolm Turnbull has also spoken about the issue.
"I am shocked and bitterly disappointed by the news from South Africa," said Turnbull.
"It seems beyond belief the Australian cricket team have been involved in cheating. Our cricketers are role models and cricket is synonymous with fair play. How can our team be engaged in cheating like this? It beggars belief."
Turnbull later added: "I have spoken with David Peever, the chairman of Cricket Australia, and I have expressed to him very clearly and unequivocally my disappointment and concern. He has said to me that Cricket Australia will be responding decisively, as they should.
"It's their responsibility to deal with it, but I have to say that the whole nation, who hold those who wear the baggy green up on a pedestal – about as high as you can get in Australia, certainly higher than any politician, that's for sure – this is a shocking disappointment."
Why does the condition of the ball matter?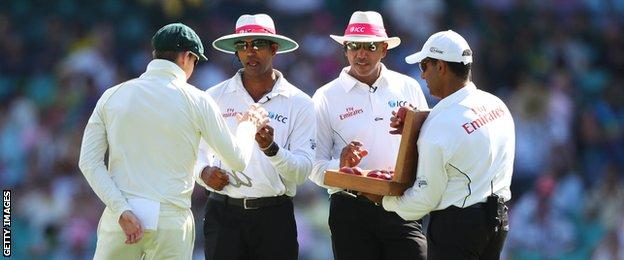 Bancroft has been charged by the ICC with attempting to change the condition of the ball – which is prohibited by Law 41.3.
Roughing up one side of the ball can help the fielding side achieve "reverse swing" – in which the ball moves in the opposite direction to conventional swing, which is achieved by polishing one side of the ball.
There are several methods by which the ball can be deliberately roughed up – ranging from the outright illegal (scuffing it with a bottle top, or scratching with fingernails), to those which are frowned upon but frequently take place anyway, such as throwing the ball into the stumps on the bounce, or applying saliva after sucking sugary sweets.
Polishing the ball on your clothing is allowed if no artificial substance is used, as is drying a wet ball with a towel that has been approved by the umpires, or removing mud from the ball under an umpire's supervision.
The umpire's ultimate sanction, if they feel the ball has been altered illegally, is to change the ball and award five penalty runs to the batting side – although this did not take place in Cape Town.
Such an instance did take place at The Oval in 2006 when umpires Darrell Hair and Billy Doctrove ruled that Pakistan had tampered with the ball during a Test against England. Pakistan refused to take the field after tea in protest, and forfeited the Test.
England captain Mike Atherton also made the headlines in 1994 when he was accused of ball-tampering during a Lord's Test against South Africa.
Atherton insisted he had put dirt in his pocket to dry his hands but was fined £2,000.
Current South Africa captain Faf du Plessis has also had two major run-ins with the authorities over ball-tampering.
In 2013, he was caught on camera rubbing the ball against a zip on his trouser pocket in a Test in Dubai, which earned Pakistan five penalty runs and a change of ball, and Du Plessis a fine.
Three years later in Hobart, Australia were incensed when TV footage appeared to show Du Plessis licking his finger and shining the ball while eating a sweet – which cost him his match fee.
Former players condemn 'premeditated cheating'
Michael Clarke, Smith's immediate predecessor as Test captain, called it "a terrible day for Australian cricket", described the plan as "premeditated cheating" and condemned its instigators for choosing rookie batsman Bancroft to carry it out.
"I can't believe the leadership group have got a young kid playing in his eighth Test match to do this," Clarke told Australia's Channel Nine.
"We have got the best bowling attack in the world. We don't need to cheat to beat anyone."
Clarke retired from international cricket in 2015 after suffering with a chronic back problem for many years, but when asked whether he would consider a shock return if Smith were to depart, he replied: "If I was asked by the right people, then I would think about my answer."
Former Test vice-captain Adam Gilchrist told BBC Radio 5 live that he was "stunned and shocked… embarrassed and sad".
The legendary wicketkeeper said: "Australian cricket is the laughing stock of the sporting world.
"I remember being a current player and the last thing you wanted was ex-players putting the boot in, but I have the feeling we have been all really badly let down here.
"The only positive is that they admitted it. We'll get stories now where it will be 'oh, all teams do it, in different levels and different ways'. But it's not bending the spirit of the game, it's going outside the laws. It's not acceptable."
Renowned Australian cricket commentator Jim Maxwell got emotional talking on ABC Grandstand about the ball-tampering issue at the start of the fourth day.
"I do not remember being as disappointed in an Australian team as I feel and I know a number of Australians and colleagues would feel at the moment," he said.
"It was so blatant and stupid. It was hugely disappointing."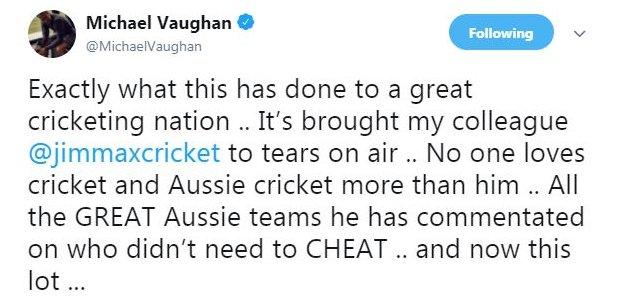 Australia 'playing under siege mentality' after fiery series
The South Africa-Australia series had already contained several flashpoints before the sides arrived in Cape Town for the current third Test.
Vice-captain Warner had to be restrained by team-mates during an off-field altercation with Proteas wicketkeeper Quinton de Kock during the first Test in Durban, for which both players were fined by the ICC and given demerit points.
South Africa pace bowler Kagiso Rabada was then handed a two-match suspension after deliberately brushing shoulders with Smith after celebrating his dismissal in the second Test at Port Elizabeth, but won an appeal to reduce his punishment to one demerit point rather than two, meaning he avoided a ban but remains one point away from it being triggered.
Australia coach Darren Lehmann then hit out at what he described as "disgraceful" verbal abuse towards his side in the early stages of the Cape Town Test.
"The Australian team have been playing under a siege mentality," ABC commentator Adam Collins told BBC Test Match Special.
"Lehmann had complained about the treatment the players have been getting – they are furious about what has happened in the last couple of weeks. Steve Smith is not a bad bloke. There is something else going on here.
"But the response on social media is very strong. It is trending against Steve Smith – it's not as if people are defending him. Smith knows he is in a lot of trouble.
"Australian fans would rather see their team lose than win like this."
Part-time spinner to Bradman comparisons – the rise of Steve Smith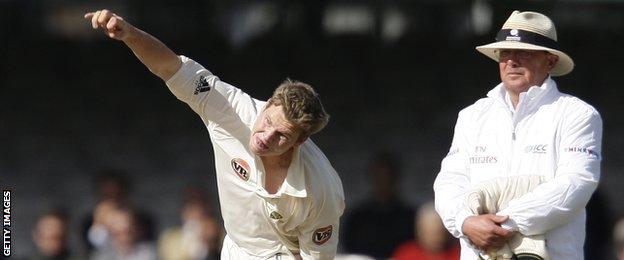 The blond quiff has flattened and darkened somewhat over the years, and on the field Steve Smith is almost unrecognisable from the raw 21-year-old who made his Test debut against Pakistan at Lord's in July 2010.
Selected primarily for his leg-spin bowling, Smith made one and 12 batting at number eight and nine in that game. He made two half-centuries in his first 10 Test innings, but was dropped after Australia lost the 2010-11 Ashes to England.
His bowling was – and remains – wildly inconsistent, and doubts about his unorthodox batting technique meant he was out of the Test side for two years.
But on his return, he slowly became such an integral part of the side that at 26, he was the natural successor to Michael Clarke as captain in 2015, while his batting statistics soared to the point where hesitant comparisons were drawn with Australia legend Sir Donald Bradman.
Passing the 1,000-run mark in the past four calendar years, he was at the top of his game in the 2017-18 Ashes against England, hitting a career-best 239 as skipper at Perth to regain the urn, and averaging an incredible 137.40 across the five Tests to sit at the top of the ICC's batting rankings.
Yet his rise has not been without controversy. In March 2017, India were angered after Smith looked up to the dressing room while pondering whether to review an lbw decision – contrary to ICC regulations that outlaw off-field assistance.
And his Australia side's behaviour has been increasingly questioned, with senior Australian radio commentator Jim Maxwell commenting: "I've started to become more and more offended by the arrogance of some of the players in the way they behave."
So what about the Ashes?
Australia came into the series against South Africa on the back of a convincing 4-0 victory on home soil over England, who are currently involved in a two-Test series in New Zealand.
England bowler Stuart Broad says he did not sense anything untoward in the defeat in Australia but says it is "strange" Smith's side changed their approach in South Africa.
"We played five Ashes Tests and they reversed it in pretty much all of them, and on drop-in pitches," said Broad.
"So to then change their method on a tour to South Africa in the third Test match seems a slightly strange one."
He added: "There were occasions when they we reverse swinging it when we didn't find the means to be able to do that. We just class that down to home conditions.
"We move the ball differently to different teams in England, and Australia moved it better than we did and out-bowled us in Australia. That's how we saw it.
"Steve has come out and said it's the first time they've ever tried it and we have to believe his words."
And finally… Bancroft's tweet comes back to haunt him
Meanwhile, the social media world has picked up on a tweet Bancroft sent in 2013 – with England women's spinner Alex Hartley among those to notice.