BHA to inspect after four horses die at Musselburgh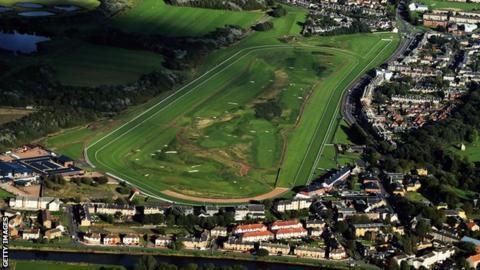 Investigations are continuing at Musselburgh Racecourse after four horses died at one jump racing meeting.
Smart Ruler, Leather Belly, Sierra Oscar and Kensukes Kingdom all lost their lives at the Scottish track.
Track officials do not believe conditions at the Scottish circuit were to blame for Monday's fatalities.
General Manager Bill Farnsworth told BBC Scotland that the four deaths appeared to be a "perfect storm" that resulted in the separate incidents.
"It's a very rare occurrence," he said. "All the deaths are unrelated and I think it is just one of those perfect storm situations.
"Unfortunately I suspect there were four horses that had weaknesses in some form or other. Whenever you are staging competitive sport there will always be some participants that are more injury prone than others."
Conditions at the East Lothian track were good and the ground was officially good, good to soft in places.
"For four horses to be fatally injured on one day of racing is very rare," said a British Horseracing Authority (BHA) spokesman.
"The incidents at Musselburgh were extremely distressing for everyone involved in the sport, not least for the owners of the horses and the trainers and stable staff who cared for them through their lives."
Smart Ruler, trained by Jimmy Moffatt, collapsed four furlongs from home in the handicap hurdle.
The Rebecca Menzies-trained Leather Belly, Jean McGregor's Sierra Oscar and Kensukes Kingdom, who won the novice hurdle for Philip Hobbs, also died.
"The average fatality rate in Britain over the last few years has reduced to around 0.2% of runners. Everyone in British racing is committed to reducing risk and making racing safer for our participants," said the BHA spokesman.
"As the sport's independent regulator we obviously treat issues such as this very seriously and work will now be undertaken to identify if there are any risk factors at the course or with the horses that might have contributed to these incidents.
"We will work with the racecourse, and the BHA's inspector of courses will be visiting Musselburgh in the coming days to carry out a full inspection.
"Where appropriate, some of the horses are also being sent for post-mortems to establish more information, including for one of the horses whose death seems to relate to a sudden collapse."