'Bitter' Sharp accuses Muir of gamesmanship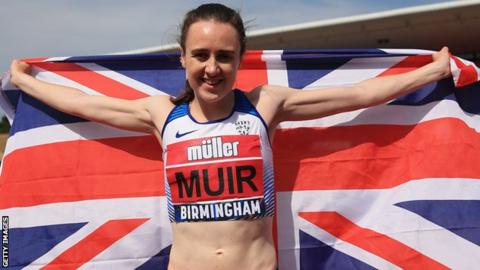 Laura Muir refuted claims she was playing games after she won the 800m title at the British Championships.
Fellow Scot Lynsey Sharp appeared to accuse Muir of entering the race after the deadline.
A statement from British Athletics confirmed Muir had registered before the closing date of Monday, 25 June.
"Games have been played all week by individuals and our governing body which is meant to be unbiased," said Sharp.
Sharp finished fifth in the race, which puts her European Championships spot at risk.
She said: "You can call me bitter, but I play by the rules and I came here prepared based on what I knew the field was going to be and that was different on Saturday morning."
The start list did not update online following last Monday's entry deadline, despite Muir entering 24 hours beforehand.
Muir, who won in two minutes 01.22 seconds, could face a protest.
She said: "We accepted the entry for the 800m over a week ago. It just didn't update online. It's always been in our minds to do the 800m. I think some of them maybe knew.
"Some of them knew from having raced in Oslo. I'm European lead in both 800m and 1500m, so I don't know if it's a huge surprise for me to do the 800m. I'm a strong contender in that event."
In a statement from British Athletics, they said "no athlete entered in the women's 800m has been granted late entry or showed favouritism in any manner in the lead-up to this weekend's championships".
The statement continued: "We have data that shows the time and date of all athletes' entry confirmations, with all competing at this weekend's championships submitting their online forms on or before the closing date of Monday, 25 June."