British Swimming Championships: Adam Peaty wins 100m breaststroke gold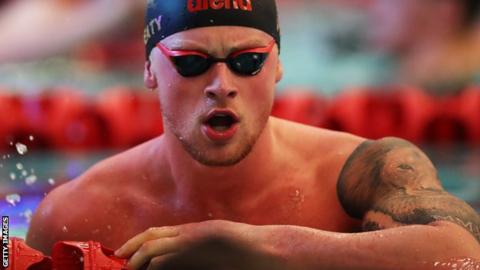 Olympic champion Adam Peaty claimed his fourth consecutive 100m breaststroke title at the British Swimming Championships in Edinburgh.
The 23-year-old dominated the race, registering a season-best 58.78 seconds to take the gold medal.
James Wilby – who won 200m breaststroke gold on Friday – claimed silver, with Ross Murdoch taking bronze.
"A race is a race for me, and it's been the same since I was a 14-year-old kid," Peaty said.
"I do exactly the same thing now as I was doing back then – just go, give it everything you've got and when you get out the water, leave nothing behind."
Wales' Chloe Tutton completed a double by taking the 200m breaststroke title following on from Saturday's 100m win.
Her compatriot Harriet Jones completed the day three action by winning the 50m butterfly final.
Holly Hibbott picked up her second British title of the weekend, adding to her 800m freestyle title with the 400m gold.
Lizzie Simmonds also followed up her 200m backstroke success with victory in the 100m event.