Carragher apologises to family after spitting incident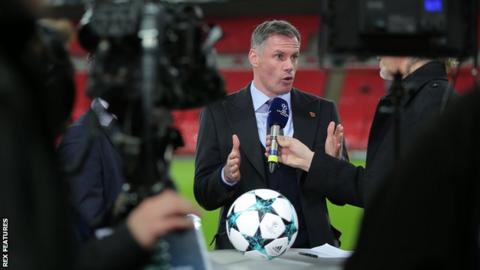 Jamie Carragher has apologised after a video showed the former England and Liverpool defender spitting towards a girl in a car from his own vehicle.
The 40-year-old, now a television pundit for Sky Sports, had been covering his former side's 2-1 defeat by Manchester Unitedon Saturday.
The video, obtained by the Mirror, shows Carragher react by spitting at a car after being "goaded".
He said he was "totally out of order" and has apologised to the family.
In the video, Carragher exchanges waves with the girl's dad. Carragher winds down his window while the girl's dad winds down his passenger side window. The dad can then be heard shouting: "Unlucky Jamie lad. Two, one."
Carragher reacts by leaning out of his window and spitting towards the car, hitting the girl, who is sitting in the front passenger seat.
On Sunday night he apologised on Twitter and said that while he was "goaded three/four times while being filmed", there was "no excuse".