Charlie Whiting: F1 race director dies aged 66 on eve of season-opener in Melbourne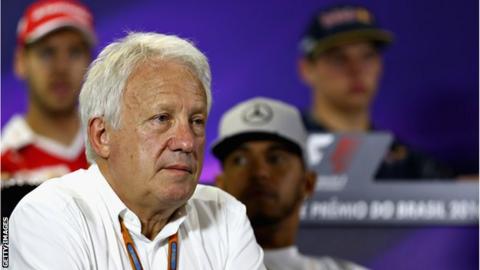 Charlie Whiting, the head of Formula 1 for governing body the FIA and one of the most influential people in the sport for decades, has died aged 66.
Whiting suffered a pulmonary embolism on Wednesday morning in Melbourne, where he was due to officiate this weekend's season-opening Australian GP.
Whiting was the official race starter and oversaw all rules matters in F1.
FIA president Jean Todt called Whiting "a central and inimitable figure who embodied the ethics and spirit" of F1.
Whiting had worked for the FIA since 1988, when he joined initially as technical director.
He was previously chief mechanic and then chief engineer of former F1 boss Bernie Ecclestone's Brabham team, which won world championships in 1981 and 1983.
Whiting began his F1 career with the Hesketh team in 1977, moving to Brabham for 1978 and staying there until he joined the FIA, where he had been a central part of the organisation's running of F1 ever since.
Todt added: "Formula 1 has lost a faithful friend and a charismatic ambassador in Charlie."
Whiting's death leaves a hole in the FIA's organisation of the Australian Grand Prix – he was the go-to person for teams on all matters pertaining to an F1 weekend.
The organisation has not yet announced how he will be replaced.
The McLaren team paid tribute to Whiting, tweeting: "All at McLaren are shocked and deeply saddened at the news of Charlie Whiting's passing. Charlie will be remembered as one of the giants of our sport, as well as a great colleague. Our deepest sympathies and thoughts are with all of his loved ones."