Commonwealth champion Scott ruptures ankle ligaments falling over pavement
Duncan Scott hasn't made many missteps in his medal-laden career so far.
But the Scottish swimming star has revealed he is recovering from two ruptured ankle ligaments after falling over a pavement.
The 21-year-old was voted National Lottery athlete of the year on Sunday after winning six Commonwealth Games medals – a record haul for a Scottish athlete – and four at August's European Championships in Glasgow, including three goals.
Scott admits his injury setback is "not ideal but it could have happened at a worse time".
The next major event on the horizon is the World Championships in South Korea in July 2019, with the British trials in April the first target.
Scott hopes to be back in full training in a couple of weeks, but is in no rush after taking specialist advice.
"The swelling has gone down a bit now," Scott, who is still a student at Stirling University, told BBC Scotland.
"With the support that I have here, I was able to see a specialist quickly and I'm well on the road to recovery. I'm in good hands.
"It's obviously quite early [in the season] so I'm not sure I was looking to be at a certain place at the minute in terms of training. I've been back two or so weeks now and just doing some pool work and doing a bit more on land; it's just about trying to let it recover.
"I'm not trying to rush back into things; that would be the biggest mistake."
Building on this year's achievements will no mean feat for Scott, whose stunning 100m freestyle gold on the Gold Coast was burnished with a 200m medley silver and four bronze medals.
He followed that with 200m freestyle gold and 100m silver in Glasgow, as well as helping Great Britain to gold in the 4x200m freestyle and 4x100m medley relays.
"The sheer depth we're starting to get in British swimming is great, but it means it's harder and harder to qualify for the teams, which is lovely," he said as he looked forward to the World Championship trials, and "hopefully if all goes well", the main event in Gwangju.
"It could be quite a busy year next year which could set us up nicely for the Olympics [in Tokyo]. We're only two years away."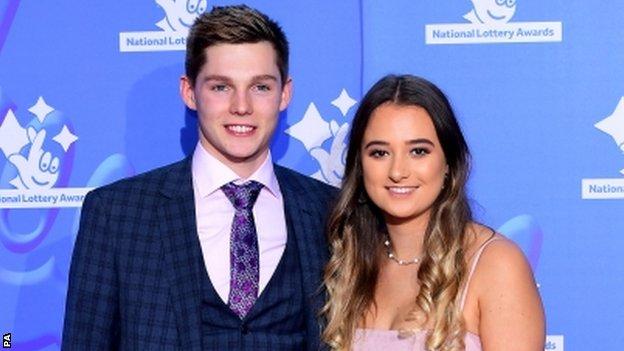 Scott, then 19, returned home from the last Games in Rio with two relay silver medals.
His hard work for the next one will continue at Stirling University, where he trains alongside other British team members in Ross Murdoch, Craig Benson and Kathleen Dawson.
"Steven Tigg [Scott's coach] is a great asset; he's been here for a few years and he's probably the boss of it all," Scott added.
"The amount of work he puts in looking at the small details – there's no luck to it all.
"We've always had good quality coaching and the support staff that we've had here over the last couple of years has been really good.
"Also being within touching distance of the Institute of Sport, we've got a really close connection with them and with sport science, physiology, nutrition, psychologists… the list goes on and on."