Commonwealth Games: England win three T54 marathon medals as Australia claim titles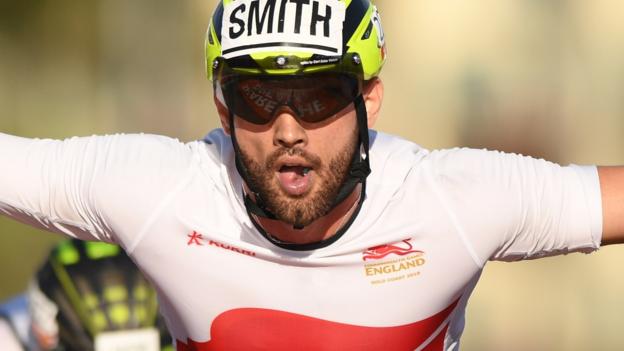 Australia's Kurt Fearnley won the T54 marathon at the Commonwealth Games with England's John Smith and Simon Lawson taking silver and bronze.
Fearnley, 37, powered into an early lead and won in a Games record one hour 30 minutes 25 seconds in what is expected to be his final race.
Smith and Lawson beat Canada's Tristan Smyth in the race for the other medals.
England's Jade Jones was third in the women's T54 wheelchair race, which was won by Australia's Madison de Rozario.
"I'm really happy, all my training was focused on the triathlon so anything today was a bonus," said Jones, who won the triathlon earlier in the Games.
A breakaway group of four led for much of the race before De Rozario broke clear to win in one hour 44 minutes, with team-mate Eliza Ault-Connell 13 seconds adrift and Jones a further seven seconds back.
Scotland's Sammi Kinghorn, who was in the leading group, faded to finish fourth – more than a minute adrift.
What happened in the other Gold Coast marathons?
Scotland's Callum Hawkins looked set to win the men's race before collapsing with just over one mile to run.
Australia's Mike Shelley took advantage to retain the title he won in 2014 with Uganda's Munyo Solomon Mutai in second and Robbie Simpson of Scotland claiming the bronze.
Helalia Johannes of Namibia won the women's race in two hours 32 minutes 40 seconds, ahead of Australia's Lisa Weightman, whose compatriot Jessica Trengrove was third.
England's Sonia Samuels was the best of the home nations athletes in fifth, more than four minutes adrift of Johannes.