Concern for McLaren after more problems in second test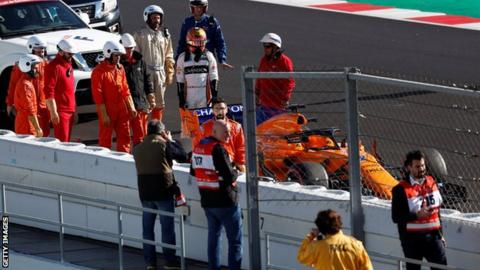 McLaren's hopes of starting the Formula 1 season close to the front have been hit by the latest in a series of problems in pre-season testing.
The car, driven by Belgian Stoffel Vandoorne, broke down three times on day one of the final test in Barcelona.
The first two failures were caused by a battery problem, the third a loss of hydraulic pressure.
McLaren completed the fewest laps on Tuesday and Vandoorne was 12th fastest of the 13 drivers taking part.
McLaren headed into the pre-season tests following their switch from Honda to Renault engines with hopes of competing for podium finishes this season.
They split with Honda last season after three seasons of poor performance and reliability and claimed that they had a chassis that was on about the same level as Red Bull.
They have expectations of competing this year with the four-time champions, who also use a Renault engine.
"We aren't overly concerned about the issues that we've faced today," said McLaren racing director Eric Boullier.
"It's obviously not the productive day we had planned, but the problems are the types of niggles that we almost hope and expect to face during testing, in order to prepare us properly for the season ahead.
"We are here to test, and today is what sometimes happens in testing. It's not ideal, and we would have liked more track time, but we're working on it, we're learning from it."
Too early to judge or cause for concern?
It is always difficult to judge a team's actual competitive position from pre-season testing because the specification in which the cars are running is not made public.
But, with three days of testing remaining before the first race in Australia on 23-25 March, the McLaren car's apparent lack of reliability and pace is a major concern.
A succession of issues have restricted mileage in testing.
Fernando Alonso lost a wheel after just six laps of the first day of testing last week because a nut had not been tightened properly.
The following day Vandoorne was hit by overheating in the engine bay caused by a broken exhaust clip.
The final two days of the first test were rendered largely useless by poor weather.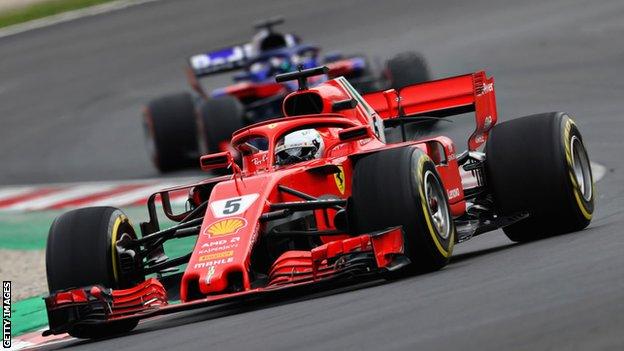 The second test started with two early problems in the morning session on Tuesday – the car cut out on its way into the pits after an early run, and then after setting his first lap time, Vandoorne ground to a halt on the pit straight.
He managed eight laps in total in the morning after the team managed to get the car back out just before the lunch break. Vandoorne had increased his tally to 38 laps when the hydraulic problem hit midway through the afternoon. The team were unable to get him out on track again.
McLaren racing director Eric Boullier said at the end of last week's first test that doing a race distance this week was "key", but the team seem far from that at this stage.
By comparison, Ferrari and Mercedes both did more than 160 laps – nearly three race distances – on Tuesday.
Another year of struggle for Alonso?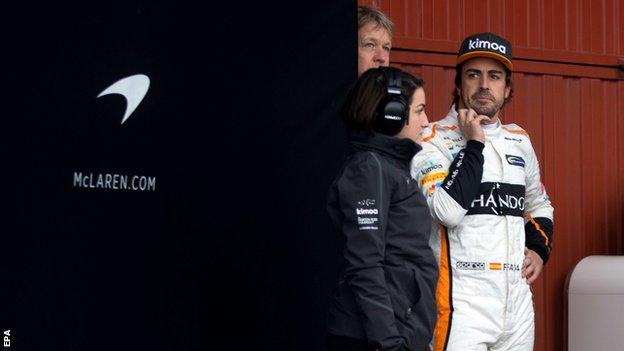 If McLaren's problems continue, it would mean a fourth consecutive wasted season for two-time champion Fernando Alonso, who re-signed for McLaren last autumn in expectation of a better season.
Alonso, winner of 32 grands prix and still regarded at the age of 36 as one of the greatest drivers of his era, left Ferrari at the end of 2014 having lost faith in their ability to win the title again before the end of his contract, which ran to 2016.
But while the Italian team have remained Mercedes' closest challengers in the intervening period – and were title contenders last season – Alonso has been far worse off in the McLaren, his best results a handful of fifth places.
McLaren's troubles have been put in stark relief by Honda's generally reliable running with new partners Toro Rosso, the Red Bull junior team.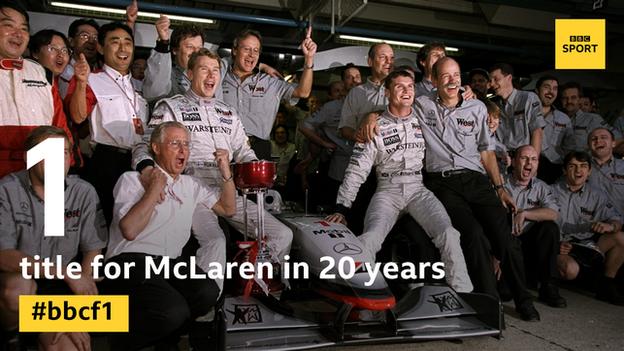 Toro Rosso driver Pierre Gasly ended the day fifth fastest, behind Sebastian Vettel's Ferrari, Mercedes' Valtteri Bottas, Red Bull's Max Verstappen and world champion Lewis Hamilton, who took over the Mercedes from Bottas at lunch time.
However, Toro Rosso also hit trouble on Tuesday, the car failing to get out of the pits at all in the afternoon session.
And Verstappen was another driver to stop on track in the afternoon.
Vettel's fastest time of one minute 20.396 seconds was set on the 'medium' tyre and put him 0.2secs ahead of Bottas on the theoretically faster 'soft' tyre. Verstappen was just 0.053secs slower than the Mercedes on the medium.
The opening race of the 2018 season is the Australian Grand Prix in Melbourne's Albert Park on 23-25 March.
Fastest times, first day, morning session
1. Sebastian Vettel (Ger) Ferrari 1:20.396
2. Valtteri Bottas (Fin) Mercedes 1:20.596 *
3. Max Verstappen (Ned) Red Bull-Renault 1:20.649
4. Lewis Hamilton (GB) Mercedes 1:20.808 *
5. Pierre Gasly (Fra) Toro Rosso-Honda 1:20.973 *
6. Kevin Magnussen (Den) Haas-Ferrari 1:21.298 *
7. Nico Hulkenberg (Ger) Renault 1:21.432
8. Carlos Sainz (Spa) Renault 1:21.455 *
9. Sergey Sirotkin (Rus) Williams-Mercedes 1:21.588 *
10. Sergio Perez (Mex) Force India-Mercedes 1:21.643 *
11. Marcus Ericsson (Swe) Sauber-Ferrari 1:21.706 **
12. Stoffel Vandoorne (Bel) McLaren-Renault 1:21.946 **
13. Lance Stroll (Can) Williams-Mercedes 1:22.937 ****
**** = time set on hyper-soft tyre; ** = super-soft tyre; * = soft; all others medium