Davis Cup: Great Britain 'strong candidate' for wildcard – captain Leon Smith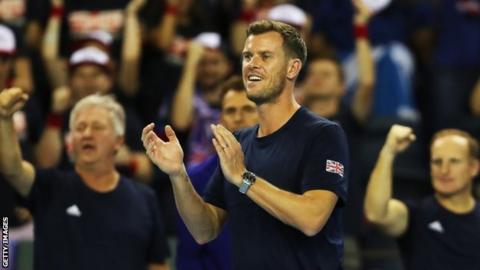 Great Britain see themselves as a "very strong candidate" for a wildcard for next year's revamped Davis Cup, captain Leon Smith says.
By beating Uzbekistan 3-1, GB ensured they will be seeded in qualifying for the new event but would bypass that stage altogether with a wildcard.
Smith said it was going to be hard for governing body the ITF to be objective in awarding its two wildcards.
"Is it [form in] the last three or four years of the competition?" he said.
To be eligible for a wildcard, which gives direct entry to the finals, a team must but be ranked in the top 50 of the Davis Cup nations ranking or have at least one player ranked in the top 10 of the ATP world rankings.
Great Britain, who won the Davis Cup in 2015, are ranked sixth and their highest-ranked singles player is Kyle Edmund, the world number 16.
Speaking to BBC Sport, Smith added: "Clearly, we would view ourselves as being a very strong candidate. Not just for the last three or four years of results, but also how we have approached Davis Cup and how we have really embraced hosting ties to the nth degree to create atmosphere.
"I think it's a very difficult situation for the ITF to put themselves in. It's not easy to be objective, or even transparent, with it. To really justify the reason of giving a wildcard is not going to be easy."
The draw for February's qualifying round – which is played home and away – takes place in London on Wednesday, 26 September and the wildcards will be announced before that date.
"Part of us would want another home tie [in February], but do I want to go away somewhere in South America on clay straight after the Australian Open? Probably not," Smith said.
"So we would view a wildcard as something that would probably help the schedules of everybody."
The Davis Cup will change to an 18-team season finale in 2019, with 24 teams competing in the qualifiers.
The 12 winning teams will advance to the finals in November, where they will be joined by the four semi-finalists from this year's tournament – France, Spain, Croatia and the United States – and the two wildcard picks.
The finals week will have a round-robin format before a knockout phase, with matches consisting of two singles and one doubles rubber, played as three-set matches.
Next year's end-of-year event will be held in either Madrid or Lille.
Analysis
BBC tennis correspondent Russell Fuller
As one of the seeds for the qualifying round, Britain will not have to play Serbia, Argentina, Germany, Austria, Belgium, Japan or Italy – all of whom currently have players ranked higher than the British number one Kyle Edmund.
However, they could play Australia or Switzerland, or possibly face a trip to South America to take on Colombia or Brazil.
A home tie is always welcome. Not just because of the partisan support and choice of surface, but also because it gives the LTA a platform to sell the sport away from the traditional summer window.
But as Leon Smith has indicated, a wildcard would still be preferable, even if this seems a major flaw in the structure of the new competition.
The investment group Kosmos has promised to pour $ 3bn into the Davis Cup and grassroots tennis over the next 25 years. To recoup that vast outlay, they will have to strike some lucrative television deals. And so they will want to do everything in their power to ensure the star players and the countries with the largest TV markets are involved.