Defiant Peaty dares Fina to ban him as he backs new swim league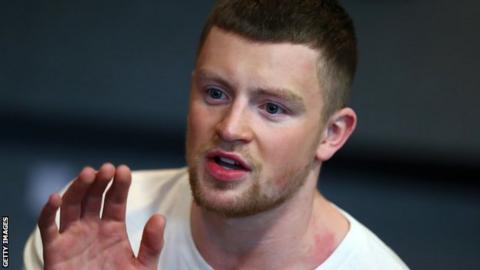 Olympic champion Adam Peaty has "dared" world governing body Fina to ban him after he backed plans to launch the new International Swimming League in 2019.
The inaugural event had been due to take place in Italy this month, but was cancelled after Fina threatened to prevent those who raced from competing in next year's World Championships.
"I don't care, ban me if you've got to," Peaty told BBC Sport.
"I'm not bothered because at the end of the day they know they can't."
The Olympic, world, Commonwealth and European champion added: "They can't get away with it because you'll lose all of the respect from the athletes and you can't bully them."
Fina stated that the International Swimming League was unsanctioned and last week launched its own Champions Swim Series, but that only further damaged its relationship with some of the sport's leading athletes, with Peaty stating the decision was "embarrassing and offensive".
Over 30 of the world's best swimmers met in London on Wednesday to back plans to launch the ISL in August next year, as well as to establish a swimmer's union which is independent from Fina.
Fina has been approached for comment relating to the announcements, but are yet to respond.