England will 'grit it out' in Sri Lanka – Bairstow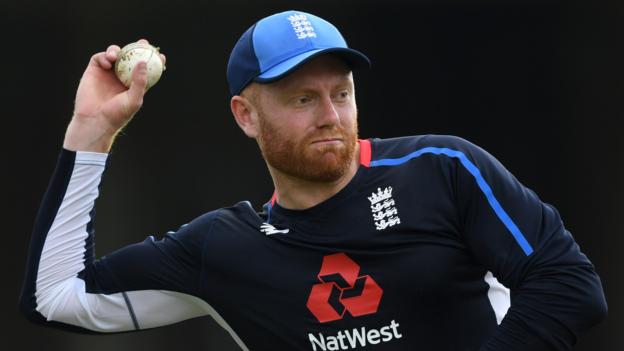 England are ready to "grit it out" if Sri Lanka prepare tough batting pitches for this month's one-day international series, says batsman Jonny Bairstow.
Eoin Morgan's side, ranked first in the world, face the hosts in five matches, starting in Dambulla on 10 October.
Sri Lanka have not won a home ODI series since beating West Indies in 2015 and lost 3-2 to South Africa in August on batting-friendly pitches.
"I'm not sure that's going to be the case here," Bairstow said.
"We'd like to play on good pitches and we'd like to have very high-scoring games but we're prepared to guts it out and grit it out if needed."
Bairstow, 29, has been one of the world's best one-day batsmen since being recalled for the Champions Trophy semi-final defeat by Pakistan last year, forming an impressive opening partnership with Jason Roy, whom he initially replaced in the side.
The Yorkshireman has scored 970 runs, including four centuries, at an average of 51.05 in 19 ODIs this year and is 10th in the ODI batting rankings.
"If you look back 18 months ago, you wouldn't have necessarily been standing here saying those words," he said.
"It's great that it has gone so well but I want to keep it going in the right direction."
The tourists face Colombo in two 50-over tour matches on Friday and Saturday before the series.
England have won their last eight ODI series since a 2-1 defeat by India in January 2017, although they were beaten by Scotland in a one-off match in June as well as last year's Champions Trophy disappointment.
Bairstow said his side are "not at all" thinking about winning a maiden World Cup men's title on home soil next year.
"We've got a tough winter ahead before we go into the summer and who knows what's going to happen," he said.
"It's an exciting year ahead and we'll find a heck of a lot out about each of us and that's an exciting thing to keep driving us forward and making sure that we're working hard to get to that end goal."
England face Sri Lanka in one Twenty20 and three Tests after the ODI series, before touring West Indies from January to March next year.