European Championships: Lawrie excited by mixed golf event at Gleneagles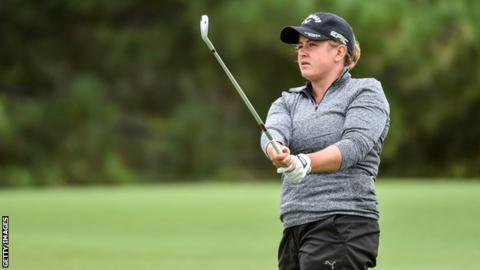 Paul Lawrie says the mixed team format at the European Championships on Saturday is going to be "absolutely brilliant" for golf.
Men and women are being paired to compete for equal prize money in a foursomes stroke-play format.
Great Britain has six mixed pairings across three teams at Gleneagles.
"It's a little bit of a struggle sometimes to get boys into the game, but to get girls into the game has been a real struggle," Lawrie said.
"If they can watch the television and see women and men playing together, that's got to be a benefit to the game."
Callum Shinkwin and Laura Davies are together, then Lee Slattery and 2018 Women's British Open winner Georgia Hall make up a couple of all-English partnerships.
Welshman Rhys Enoch will play alongside England's Holly Clyburn, while Scotland's Catriona Matthew is with England's Charlie Ford.
An all-Scottish pairing comes in the form of Connor Syme and Michele Thomson, then another Scot, Liam Johnston, is paired with England's Meghan MacLaren.
"To see men and ladies all playing together in a tournament should be brilliant, and I don't see why we can't try and get some sort of event on the schedule doing that," said 1999 Open Championship winner Lawrie.
"It's huge. It's never happened before in an official event and it will be good for the game. We're constantly trying to get girls into the game. This is the event that is going to do that. It's innovative and it's groundbreaking."
Lawrie, whose last European Tour win was at Gleneagles in 2012, pulled out of the rest of his 2018 season because of injury.
"I was down seeing a guy yesterday about my back," explained Lawrie.
"My pelvis is out of alignment, just to add to it. So apart from my foot and my back, my pelvis is now on the blink as well so I'm really struggling.
"I've never been a player that's been injured much. It's the first real, long spell on the sidelines for me and it's just frustrating because you want to be playing But luckily it's happened to me at 49 and not at 29 while I was in the prime of my tour career."