Farbrace turns down Bangladesh offer as Anderson retains vice-captaincy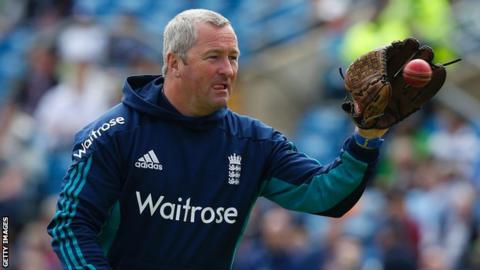 England assistant coach Paul Farbrace is believed to have turned down an offer to become Bangladesh head coach.
Farbrace quit as Sri Lanka coach in 2014 to take up his role with England under Peter Moores.
The 50-year-old former Kent wicketkeeper then stayed in position after Trevor Bayliss replaced Moores.
Meanwhile, bowler James Anderson will remain England vice-captain for the two-Test series in New Zealand, despite the return of Ben Stokes.
Anderson took on the role from Stokes after the all-rounder was involved an incident outside a Bristol nightclub last September, which led to a charge of affray, and missed England's 4-0 Test series defeat against Australia over the winter.
Stokes, who has pleaded not guilty to the charge, returned to the England side in February after a five-month absence for the one-day series in New Zealand and is available for the two Tests against the Kiwis.
"I'm delighted at the moment and not looking further than these two Test matches," said Anderson when asked if he would keep the vice-captaincy on a longer term basis.
Anderson hope for new selection process
Anderson has also backed the overhaul of how England will select players following James Whitaker stepping down as a national selector at the end of March.
England will bring in a scouting system with a minimum of 12 "discipline-specific scouts".
They will provide information to a panel made up of a new national selector, a full-time independent England selector and the head coach.
"The more players that get watched and the more in-depth information you can get on players [the better], so that when they come into the international arena you know that they are ready for what's to come," said Anderson.
"It's really important to get that background information, not just see their form in the field, and try to actually look a bit deeper at players.
"I think that can only be a good thing for English cricket."