GB's Duckworth misses out on decathlon medal – video & round-up
Britain's Tim Duckworth missed out on a medal in the men's decathlon at the European Championships in Berlin.
The 22-year-old had been in the lead after eight of the 10 events, before struggling in the final two competitions – the javelin and 1500m.
Duckworth, born to British parents in the United States, came fifth overall with a total of 8,160 points.
Germany's Arthur Abele won with 8,431 points, with Russian Ilya Shkurenyov second and Belarus' Vitali Zhuk third.
Duckworth was competing in his first major championships and held an overnight lead at the end of the first day's action.
After the 110m hurdles, discus and pole vault on Wednesday morning, he still had a 70-point advantage over Shkurenyov, who was competing under the authorised neutral athlete banner, as Russia is suspended from international athletics by the IAAF.
However, Duckworth's best effort in the javelin was only 54.78 metres, well short of Abele's best of 68.10m, a throw that saw the German take the overall lead.
Duckworth remained second before the final event but dropped down to fifth after he finished more than 30 seconds behind the leading competitors in the 1500m in a time of four minutes 58.28 seconds.
"I am tired, very tired," he said. "It was a really, really cool experience, it was next level. It was a better experience than I thought it was going to be.
"It was a hell of an experience leading it, but I don't feel like it was a great decathlon for me.
"It was a good score but in terms of where I wanted to be, some events were down – the 100m, long jump, hurdles. There was a lot down but a lot of experienced gained from it all and it is all towards the next three years.
"There was a lot of support for me and I'm grateful for that because it was a long, gruelling two days with lots of ups and downs. My goal was to come top five and you can't be too mad with the score if you are top five."
'There is a lot he can improve on' – analysis
Daley Thompson, two-time Olympic decathlon champion on BBC TV
He's had a positive few days and he's shown he belongs among the European elite. He started so well but we've seen his weaker events come through at the end. He knows there are things to work on so we'll see what he can do in the future and maybe he can be around the medals.
I think he's got a big future. He's been competing since February – now it's August – so it's almost impossible to compete at the elite level for that amount of time. I think the past couple of days have really played on him and now he's really tired.
If we give him some time and let him grow into the event – he's learning a lot here – there is a lot he can improve on. But I have no doubt that if he can put a decent decathlon together he can win something big in the future.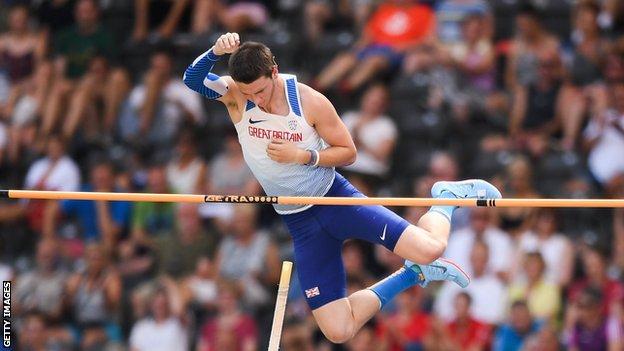 Mitchell-Blake and Gemili into 200m final
Nethaneel Mitchell-Blake and Adam Gemili both qualified for Thursday's final in the 200m.
Mitchell-Blake, 24, came second in his semi-final in a time of 20.35 seconds, with 24-year-old Gemili, who won European gold in 2014, advancing as one of the fastest losers after coming third in his semi-final in 20.46.
The final also includes Turkey's reigning world champion Ramil Guliyev, Spain's 2016 European champion Bruno Hortelano and Ireland's Leon Reid, the bronze medallist in the Commonwealth Games in April.
Olympic heptathlon gold medallist Denise Lewis felt both Britons would struggle to win a medal. She said: "I watched Adam Gemili and Nathaneel Mitchell-Blake at the trials and I don't think they have another gear at the moment.
"I don't believe the talk when they say they feel good, because they don't – I think there are some underlying issues there."
Four-time Olympic gold medallist Michael Johnson added: "The issue is more than physical for Adam Gemili – it's mental too.
"They want to put their foot down and there's nothing there – as a world class athlete that's not where you want to be."
Gemili admitted he needed to do better if he was to finish in the top three. He told BBC TV: "It's not a nice place to be. I don't know. It's not clicking. I am trying. I thought I ran a good bend and wanted to go into cruise control but the guys just kept coming.
"It was an amateur race. I feel like I'm much more experienced than that. It was really disappointing. I need to sit down with my coach and work out what has gone wrong.
"To scrape through to a European final… I feel I'm much better than that."
'My coach told me to show off'
Matthew Hudson-Smith impressively won his semi-final to move into Friday's 400m final in a time of 44.76 seconds, but Dwayne Cowan, Rabah Yousif and Martyn Rooney all failed to qualify.
"My coach told me to go out there and show off and that's exactly what I did. People told me to dominate," Hudson-Smith told BBC Sport.
"I am here to do a job. I came to win and to execute. My coach has told me I've done the work and that is all to be said."
There will be three British women – Lynsey Sharp, Adelle Tracey and Shelayna Oskan-Clarke – in the women's 800m final on Friday, with Eilidh Doyle and Meghan Beesley moving into Friday's 400m hurdles final.
Morgan Lake cleared 1.9m to advance into Friday's women's high jump final, but Nikki Manson failed to qualify in the same event and Sophie McKinna missed out on a medal in the shot put as she came seventh.
Alice Wright came sixth in the women's 10,000m final, with Dan Bramble seventh in the men's long jump.