Hamilton fastest on final day of first test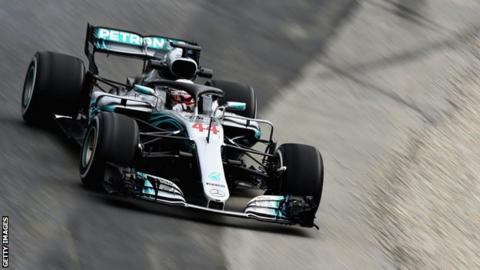 World champion Lewis Hamilton signed off the first week of pre-season testing with an imposing fastest time.
The Mercedes driver was 0.5 seconds clear of the rest and 0.9s quicker than 2017 title rival, Ferrari's Sebastian Vettel, despite using a harder tyre.
Pre-season times are notoriously unreliable indicators of form because car specifications are not revealed and many factors can affect performance.
But Hamilton's pace underlines Mercedes' pre-season favourites status.
"I was really happy to get out today," Hamilton said. "I don't normally like testing but we hadn't had many miles so I was keen to stretch the legs on the new car and so far it is positive."
But he said the new track surface at Barcelona was making it difficult to work out how good the car was.
"The track is quicker than it was, much smoother, a lot more grip so it is difficult to tell whether the car is that much better, how much is track, tyres," he said.
"The next few days we'll get a better understanding. It is not the best of readings but it is positive. It definitely does feel like a better car so that's a positive."
After three days of unusually cold weather, the teams finally managed some effective running in warmer conditions on Thursday.
McLaren took advantage of the opportunity to finally manage a serious amount of laps after reliability problems affected them on the first two days.
McLaren driver Stoffel Vandoorne, who did more than 100 laps before handing over to team-mate Fernando Alonso early in the afternoon, was second fastest, 0.521secs off Hamilton.
But the Belgian was the only driver to use the fastest hyper-soft tyre, which is four grades softer – and in the region of at least two seconds faster – than the medium the Briton used to set his time.
Alonso was fifth fastest, 1.6secs slower than Hamilton, using the super-soft tyre.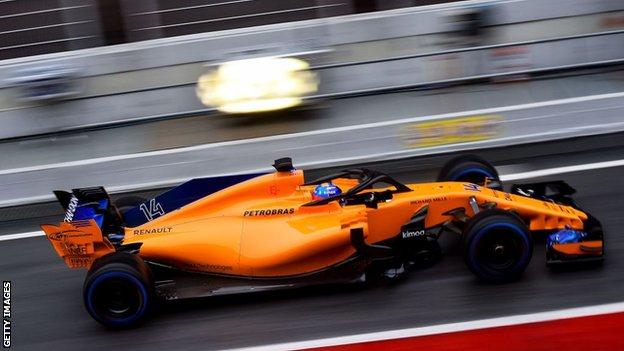 Vettel used the soft tyre to set his best time, and Haas driver Kevin Magnussen was fourth quickest, 0.076secs slower than the German, on the super-soft.
The mix of tyres underlines the difficulty of reading true competitiveness from the list of headline times – and that's before considering that the teams will also have had varying fuel loads and engine modes, both of which can make significant differences to lap times.
Vettel said he had a "good first impression of the car" but the lack of running in the cold for most of the week meant it was difficult to judge where teams stood.
"So far things are looking OK," the four-time champion said, "but there has been very limited running for everyone so it is very difficult to judge – not just yourself, but also judge compared to the others.
"It is not that important in the first week you just want running but that has been difficult as well.
"Mercedes are the favourites. I think it will be close, very close. Closer than last year would be great. We see from there. It is a long year and a long time from here to the end of the season."
The second and final pre-season test runs from 6-9 March. The opening race is the Australian Grand Prix in Melbourne's Albert Park on 23-25 March.
Pre-season testing times, day four:
1 Lewis Hamilton (GB) Mercedes 1:19.333
2 Stoffel Vandoorne (Bel) McLaren-Renault 1:19.854 seconds ****
3 Sebastian Vettel (Ger) Ferrari 1:20.241 *
4 Kevin Magnussen (Den) Haas-Ferrari 1:20.317 **
5 Fernando Alonso (Spa) McLaren-Renault 1:20.929 **
6 Carlos Sainz (Spa) Renault 1:20.940
7 Lance Stroll (Can) William-Mercedes 1:21.142 *
8 Sergio Perez (Mex) Force India-Mercedes 1:21.973 *
9 Max Verstappen (Ned) Red Bull-Renault 1:22.058 *
10 Pierre Gasly (Fra) Toro Rosso-Honda 1:22.134 **
11 Nico Hulkenberg (Ger) Renault 1:22.507 *
12 Valtteri Bottas (Fin) Mercedes 1:22.789
13 Charles Leclerc (Mon) Sauber-Ferrari 1:22.808 *
14 Marcus Ericsson (Swe) Sauber-Ferrari 1:23.825 **
15 Sergey Sirotkin (Rus) Williams-Mercedes 1:31.979 I
**** = time set on hyper soft tyre; ** = super-soft; * = soft; I = intermediate; all others medium