Hawkins beats Saengkham to reach Welsh Open final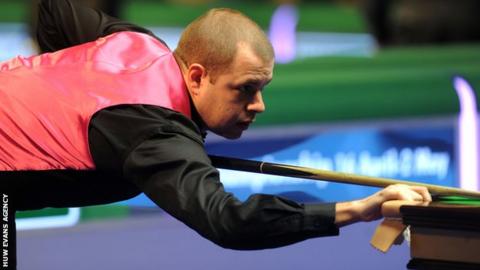 John Higgins will have the opportunity to win a record fifth Welsh Open title in Cardiff after beating Gary Wilson 6-2 to reach a seventh final.
Higgins will face Barry Hawkins after the Englishman beat Noppon Saengkham 6-4 in the earlier semi-final.
Higgins and Ronnie O'Sullivan have both won four Welsh Open titles, with the Scot beating O'Sullivan 5-1 in this year's quarter-final.
"I don't like semi-finals, I am really relieved," Higgins told BBC Wales.
"I am delighted to be through to another final. It would be amazing to win it for a fifth time, amazing.
"It would be some record for myself to win it five times, it would be brilliant, but Barry will be gunning to win it for his first time.
"It should be a good final between two top-eight players."
Higgins held a 2-1 advantage before taking a close fourth frame with a brilliant pink pot after it seemed the Scot had lost his chance, but Wilson took the next frame with a break of 61 to cut Higgins' lead to 3-2.
A break of 99 then restored the four-time world champion's advantage and playing well, he quickly made that 5-2.
The match finished with another flourish as Higgins added a break of 106, his 710th century in tournament play.
I'm a lucky boy to be in the final
Hawkins, World Championship runner-up in 2013, did not manage a century break in his win over Saengkham, but did enough to progress.
"I missed some easy ones, I just struggled and I am a lucky boy to be in the final," Hawkins said after a break of 63 made the 10th frame decisive.
Hawkins will now appear in a sixth ranking final, chasing a fourth win.
"It was hard work, a horrible game, he was a difficult opponent to play against… I struggled at the table a bit," Hawkins added to BBC Wales.
"I will try and forget about today and play like I did in the quarter-final. If I play like I did today in the final I will get murdered."
Hawkins, who beat China's Yan Bingtao to reach the last four, opened up a 3-1 advantage with a break of 94, but there was not much fluency from either player.
A 37-minute seventh frame was edged by Hawkins on the colours to make it 5-2 before Saengkham, playing in his first ranking semi-final, cut the deficit to 5-3 in another cagey frame.
The match finally had a century break when Saengkham secured his third of the tournament, sinking a long red to set up a break of 139, but Hawkins won the 10th and with it the match.