Hawkins will 'learn' from marathon collapse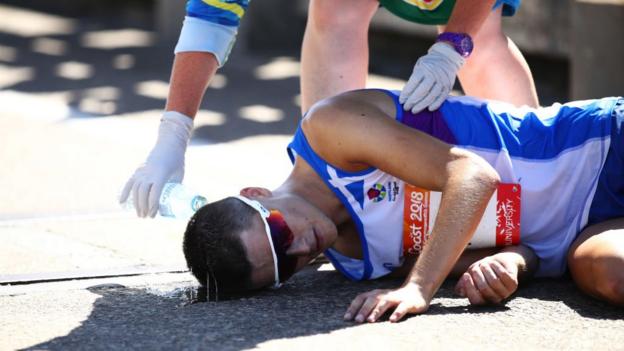 Scotland's Callum Hawkins says collapsing close to the end of the men's marathon at the Commonwealth Games will make him a "better athlete".
The 25-year-old was leading the race when he fell just over a mile before the finish line, after succumbing to the hot conditions.
He was discharged from Gold Coast University Hospital on Monday.
Writing on Twitter, Hawkins said: "I will use the whole thing as a big learning experience."
He continued: "The response has been overwhelming. Thanks everyone for the messages of support, they're very much appreciated and mean a lot to me.
"I'm absolutely gutted as I had put everything in to getting a medal at the CG [Commonwealth Games] over the past six months but it's sport.
"I will use it to make myself a better athlete for Tokyo (2020 Olympic Games) and the future. Looking forward to getting back at it soon."
Hawkins was aiming for his first major title, having come fourth in the World Championships last year, and had a lead of around two minutes before he collapsed.
He had to wait several minutes for treatment at the roadside.
Organisers have said they will investigate whether there was an excessive delay in getting help to Hawkins, who had managed to get up and run another couple of hundred metres before collapsing again, hitting his head on a roadside barrier.
On Sunday Commonwealth Games Scotland chair Paul Bush said he hoped "lessons could be learned" about the incident.