'I want to hear the roar of the crowd' – Sotherton on nine-year wait for Olympic bronze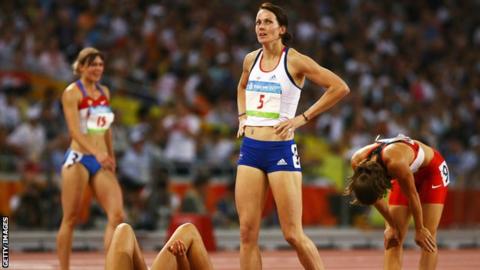 Britain's Kelly Sotherton wants her nine-year wait for a 2008 Olympic heptathlon bronze medal to end with a medal ceremony at London Stadium.
Russia's Tatyana Chernova has been stripped of her bronze medal from the Games in Beijing for doping.
Sotherton, 41, originally finished fifth but has been upgraded to third after the Court of Arbitration for Sport (Cas) rejected Chernova's appeal.
"I want my moment in front of thousands," she said.
Sotherton said she only discovered the Cas decision via social media, adding: "I'd have rather known before everyone else."
The International Olympic Committee (IOC) is waiting for athletics' world governing body to inform it of the official change in result following Cas' ruling.
It will then contact the British Olympic Association (BOA) to reallocate the medal.
Russia's athletics federation has requested that Chernova return the medal, but in some cases the IOC engraves new ones to "avoid delaying an award ceremony".
Several athletes – including Sotherton's fellow former heptathlete Jessica Ennis-Hill – received reallocated Olympic and World Championship medals during the World Athletics Championships and Anniversary Games at London Stadium this summer.
The BOA says it will work with Sotherton and UK Athletics to "agree a suitable time and venue" for the medal presentation.
The Anniversary Games and The Meet – a Britain v USA one-day competition – will be held at London's former Olympic stadium next summer.
Sotherton won Olympic heptathlon bronze in 2004 and had already been moved to third in the Beijing 4x400m relay after Belarus and Russia's disqualification.
Ukrainian Lyudmila Blonska finished fourth in the heptathlon in 2008 but, like Chernova, has also been banned for doping.
She told BBC Sport: "I want to hear the roar of the crowd and have the feeling of what it would have felt like in Beijing, being celebrated by all those people.
"To do it at the Olympic stadium in your home country, with my family there, would be pretty special."
She added: "I have had the anger and now I am looking forward to receiving the medals and focusing on the future and all that the medal can bring."
'I blame the regime'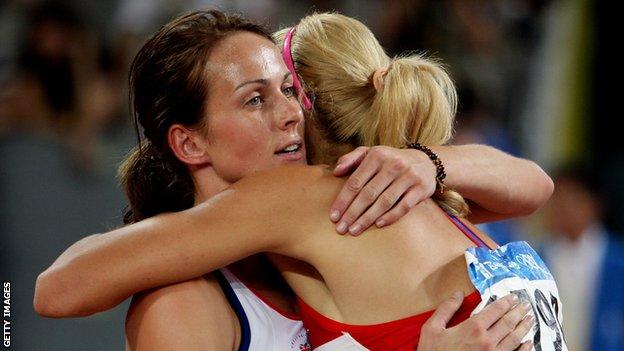 Sotherton retired five years ago after failing to recover from a back problem in time to qualify for London 2012.
The three-time Olympian, who is yet to receive her reallocated 4x400m relay medal, says receiving her heptathlon medal will "finalise" her career.
"I can now move forward and not think what could have been," she said. "I can't complain about three Olympic bronze medals, it is more than anyone can ask for.
"I feel my career has been worth something now. It shows success, and maybe I was better than I appeared to people."
Russian track and field athletes were banned from competing at the 2016 Rio Olympics by the sport's governing body – after widespread, state-sponsored doping was uncovered in the country.
Sotherton says she blames the system, rather than Chernova, for what happened.
She added: "No-one grows up wanting to be a cheat. I think you have to blame the system or the regime, that was there first.
"That was Chernova's last medal, she has had her career wiped. That is the price she pays."