Injured Butchart to miss Commonwealth Games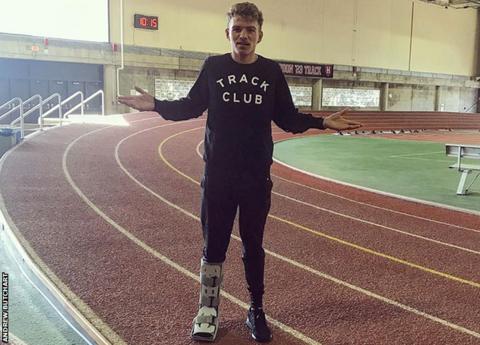 Scottish distance runner Andrew Butchart is set to miss the Commonwealth Games in April after suffering a broken bone in his foot.
Butchart, from Dunblane, said he "felt a sharp pain in my right foot" in a 3,000m race in New York last weekend.
"I knew what it was straightaway," Butchart said in an Instagram post. "After an MRI in Boston it was confirmed – a fractured navicular."
Butchart added he was "heartbroken" and "won't be racing for a while."
BBC Scotland understands he will not recover in time for the Commonwealth Games on Australia's Gold Coast, which begin in less than eight weeks, on 4 April.
Butchart, 26, finished sixth in the 5,000m at the Rio 2016 Olympic Games.
His girlfriend, Lynsey Sharp, is among Scotland's track and field squad for the Commonwealths.