Japanese Grand Prix: Predict your top three drivers in Suzuka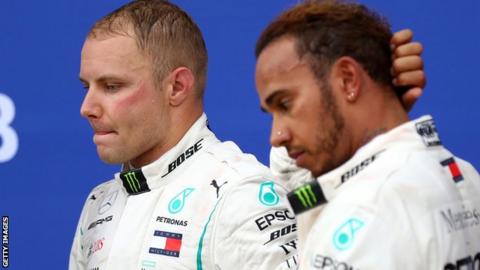 If Lewis Hamilton goes on to win a fifth world title, he might want to buy Valtteri Bottas a pint.
The Finn qualified on pole position in Sochi last weekend, but Mercedes made the "difficult" decision to instruct him to let his team-mate through to secure victory and open a 50-point advantage over championship rival Sebastian Vettel.
Hamilton said he was "the most conflicted" he'd ever been over the incident, while Bottas felt he had the "pace for victory".
Next up is the Japanese Grand Prix at Suzuka, where the championship rivals have each won four times. Hamilton was the one celebrating in 2017 after Vettel limped out after only four laps.
Who will top the podium in the Japan? Make your choice below…
Choose your top three drivers from the list below