Katarina Johnson-Thompson points to tougher mindset as key to medal success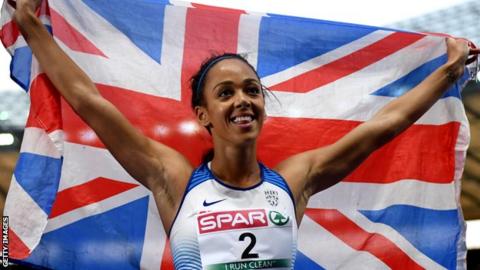 Muller Grand Prix Birmingham
Venue: Alexander Stadium Date: 18 August
Coverage: Live coverage on BBC One and online
Katarina Johnson-Thompson says an improvement in her mentality was the most pleasing part of her silver medal at the European Championships.
The heptathlete scored a personal best 6,759 points to finish 57 behind world and Olympic champion Nafissatou Thiam.
"Going into each event, I tried to be as competitive as possible and not intimidated by the competition," the 25-year-old told BBC Sport.
Jessica Ennis-Hill was among those to praise Johnson-Thompson's new approach.
Ennis-Hill, who retired in 2015 after winning both world and Olympic heptathlon titles, said that Johnson-Thompson was now relishing the role of "a fierce competitor".
American track great Michael Johnson – a four-time Olympic gold medallist – told BBC Sport that he was impressed by how Johnson-Thompson had dealt with the pressure of contending for a medal.
Johnson-Thompson's hopes of a medal at London 2017, Rio 2016, and Beijing 2015 were dented by under-par performances in the high-jump, javelin and long jump.
But her consistently solid campaign in Berlin, which featured a 42.16m javelin personal best, kept in touch with Thiam until the final 800m.
She finished 157 points ahead of German world silver medallist Carolin Schafer in third.
"I always knew that I was talented, but I could never really get the events together," Johnson-Thompson added.
"I never knew why that broke down in competition, especially in high-level stress situations. I am happy I have been able to change that around."
Johnson-Thompson moved to train in Montpellier from her native Liverpool after Rio 2016 and says the belief of her new coaching set-up – led by Bertrand Valcin – and the disappointment of previous campaigns has sharpened her competitive edge.
"France has made me more independent and put me more in control, it has definitely changed me and matured me," she added.
"My coaches believe that I can do anything, that for sure has helped me with my confidence.
"On the sporting side, pulling out of the Commonwealth Games with a stress fracture in my foot, no-jumping in Beijing and underperforming in Rio, has definitely hardened me as a person and made me prepare in a different way."
Johnson-Thompson says improving her throws, where she gives up considerable ground to Thiam, is still a focus of her training in France – along with improving her French.
"Just having the Scouse accent definitely makes it difficult to pronounce certain words," she adds.
"But it happens the other way round. When other people in the training group learn English words from me, they then say it in a Scouse accent!"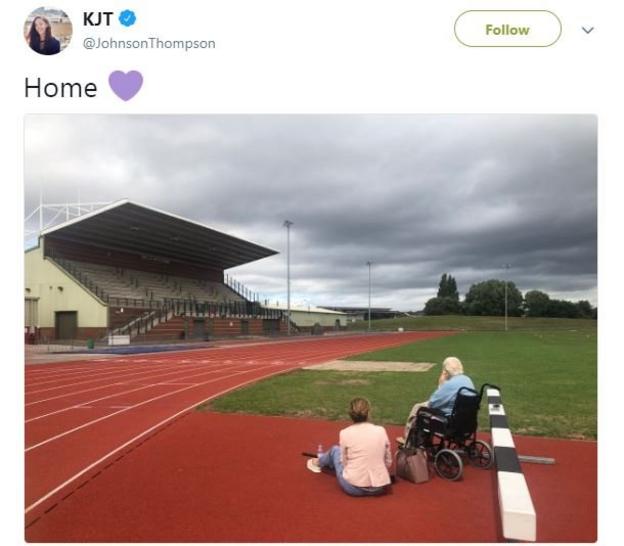 Before her return to Montpellier, Johnson-Thompson is competing in a high-quality long jump event at Saturday's Birmingham Diamond League event.
Six of 2018's top nine jumpers, including British rivals Lorraine Ugen, Shara Proctor and Jazmin Sawyers, are in the field.
"British long jumping is in a crazy place right now," she said.
"I remember watching the British trials and seeing Lorraine jump out over seven metres and just thinking it was insane. I'm excited to be among it."