Kelly Sotherton says receiving Beijing Olympic medal will put pain to rest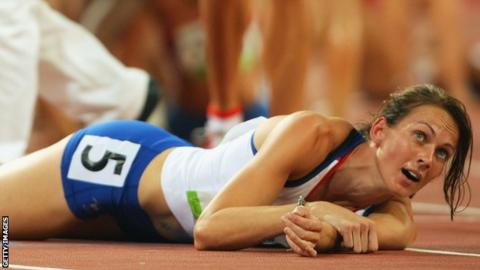 Britain's Kelly Sotherton says she has finally put behind her the "brazen" cheating that denied her an Olympic medal, as she prepares to receive a belated bronze from Beijing 2008.
The 41-year-old has been upgraded from fifth to third in the heptathlon after two rivals failed drugs tests.
"If I look back I get angry and bitter. I want to look forward and enjoy the moment," she told BBC Radio 5 live.
Sotherton will be awarded her medal at Thursday's Team GB Ball in London.
She originally finished fifth in the heptathlon in Beijing, but was finally assured a medal in December, when Russia's Tatyana Chernova – who had been upgraded from fourth to third – failed in her appeal against a retrospective doping ban.
Ukraine's Lyudmila Blonska was stripped of her silver medal in the immediate aftermath of the competition in China after testing positive for an anabolic steroid.
She had previously been banned for two years in 2003. In 2007, Sotherton said she was still suspicious of her rival.
Speaking on Thursday, she told BBC Radio 5 live that Blonska appeared to be cheating during the competition at Beijing 2008.
"In the long jump, there were two empty vials left by her bag. I saw her take something and I saw her husband (and coach) pass her something, which you are not allowed to do," said Sotherton.
"I took those bottles and gave them to my team management, who subsequently gave them to the organisers.
"It is so brazen but you don't want to be called bitter when you come fourth or fifth.
"It niggled me all the way through from Beijing until I found out I was getting a medal."
It is the second medal from Beijing 2008 that Sotherton has received in retrospect.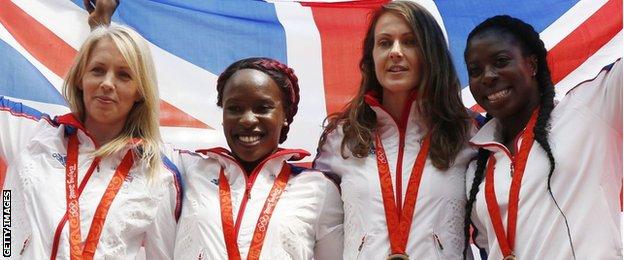 She – along with Christine Ohuruogu, Marilyn Okoro and Nicola Sanders – were awarded 4x400m relay bronze medals at this summer's Anniversary Games after being upgraded following doping by the Russian and Belarusian teams.
Sotherton, who retired in May 2012, also won heptathlon bronze at Athens 2004.