'Lifting Russia doping ban would be catastrophic'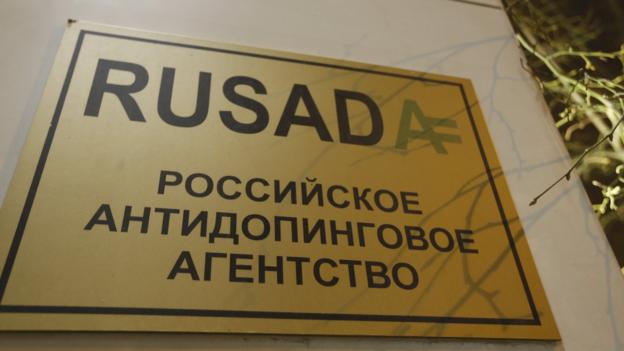 Lifting the suspension of Russia's anti-doping agency (Rusada) would be "catastrophic", says doping whistleblower Grigory Rodchenkov.
The World Anti-Doping Agency's (Wada) executive committee is expected to end a three-year suspension of Rusada when it meets on Thursday.
The move has been criticised by athletes, anti-doping bodies and Wada's vice-president Linda Helleland.
Rusada has been suspended since 2015 over alleged state-backed doping.
Last week, Wada's compliance review committee recommended Rusada's reinstatement after it received assurances from the Russian sports ministry, saying the country had "sufficiently acknowledged" failures.
Rodchenkov, the former head of Moscow's anti-doping laboratory, fled Russia in late 2015 with detailed evidence of the far-reaching state-sponsored doping regime he masterminded.
His evidence led to Russia being banned from the Olympics and he has been in hiding ever since, saying he fears reprisals from the Russian state.
"It is clear that any decision by Wada to reinstate Rusada – which would then be followed by the reinstatement of the Moscow Laboratory – would be a catastrophe for Olympic sport ideals, the fight against doping and the protection of clean athletes," he said.
"Wada must not fall prey to manipulation and false assertions from the Ministry, the same arm of the Kremlin that facilitated the doping program and asserted false compliance."
The UK Anti-Doping Agency (Ukad) has joined with other leading national anti-doping organisations around the world to call for a postponement of any decision by Wada.
UK Sport chair Dame Katherine Grainger has backed Ukad's position, adding: "What doping steals from athletes is irreplaceable and the integrity of sport and competition has to be protected to maintain public trust and support. This responsibility rests with leaders at every level."
In contrast to those speaking out against the reinstatement of Rusada, the athletes' commission of the International Olympic Committee (IOC) said on Wednesday it "agreed in principle" with the recommendation to end the suspension.
Rusada was suspended after it was accused of covering up drug abuse – including while the country hosted the 2014 Sochi Winter Olympics – in a Wada-commissioned report by lawyer Richard McLaren.
Russia was ordered to meet set criteria before Rusada could be re-admitted, which included: accepting the findings of the McLaren Report into state-sponsored doping, and granting access to Moscow's anti-doping laboratory.
Russia has repeatedly denied running a state-sponsored doping programme and continued to deny full access and retain control of its Moscow laboratory.
Wada's stance appears to have softened, after BBC Sport revealed details of a compromise suggested by Wada's president Sir Craig Reedie and director-general Olivier Niggli to Russia's Sports Minister in June that was eventually accepted.
Russian sports minister Pavel Kolobkov said he is looking forward to Wada's decision "with hope".
"I was sure that sooner or later the Wada committee on compliance would recognise the enormous work done in Russia to combat doping," he added.
"We always wanted to cooperate, we were constantly in dialogue, we did everything we could, we have nothing to hide. Only by joint efforts we were able to achieve such a result. It is important for us to restore Rusada."