Mr Antolini keeps Sandown win after inquiry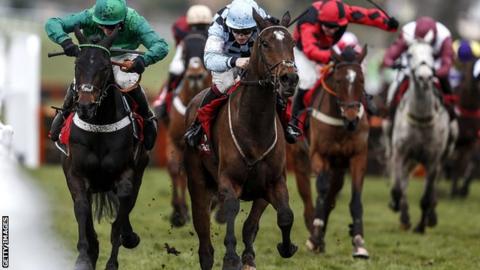 Mr Antolini, ridden by Jamie Bargary, kept its victory in the Imperial Cup at Sandown following a stewards' inquiry.
The 20-1 winner was side by side with Call Me Lord, whose jockey was Daryl Jacob and was close to the rail, heading to the winning post.
Jacob told the stewards' inquiry his horse had been "intimidated" and "unbalanced" down the final stretch.
Bargary argued "he's had every opportunity to go by me in the final furlong" before being awarded the win.
However, Bargary was suspended three days for careless riding.
The stewards said in a report that "he allowed his mount to drift right-handed without sufficient correction, causing Jacob to receive a bump and be tight for room".
"Normally, with a neck you hopefully keep it," Mr Antolini's trainer Nigel Twiston-Davies said after the last big jumps race before the Cheltenham Festival starts on Tuesday.
"He travelled and jumped beautifully. I think he looked like the best horse."
Analysis
BBC horse racing correspondent Cornelius Lysaght
The Nigel Twiston-Davies team goes into the Cheltenham Festival with a spring in their step after success in the Imperial Cup 'twice'.
A total of three bumps to gallant runner-up Call Me Lord led to the type of tight stewards' inquiry which I've seen go either way – if your luck is in, you'll be OK, if not you'll get slung out.
The fact Mr Antolini also won the inquiry – even if his promising young jockey received a ban – bodes well for the days ahead when Team Twiston's challenge is headed by Festival regular The New One in the Stayers Hurdle.