Peaty completes breaststroke double at British Championships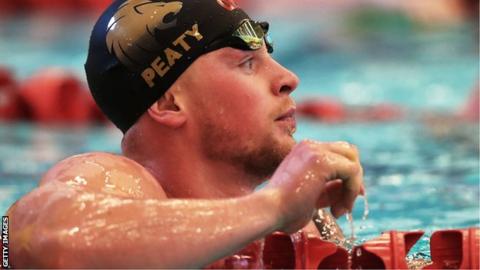 Adam Peaty defended his men's 50m breaststroke title on the final day of competition at the British Swimming Championships in Edinburgh.
The 23-year-old cruised to a dominant victory to add to the 100m breaststroke title he won on Saturday.
Peaty said: "It shows me I have the pace I need and that things are coming together ahead of Gold Coast [April's Commonwealth Games].
"This week was about testing myself, which I feel I've done."
Elsewhere on the final day it was a good day for junior competitors.
Leah Crisp, from City of Leeds, took the women's 1500m freestyle title, while another junior, Jacob Peters (Poole), won the men's 100m butterfly ahead of Duncan Scott and Sam Horrocks.
Freya Anderson (Ellesmere College Titans) took gold in the women's 100m freestyle, Stephen Milne (Perth) won the men's 200m freestyle and Alys Thomas (Swansea Aquatics) won the women's 200m butterfly.
Imogen Clark (Loughborough) defended her women's 50m breaststroke title while Maidenhead's Tom Dean completed the double in the individual medley events, adding the 400m crown to his 200m title earlier in the meet.