People can put pressure on me but I'm not bothered – Duncan Scott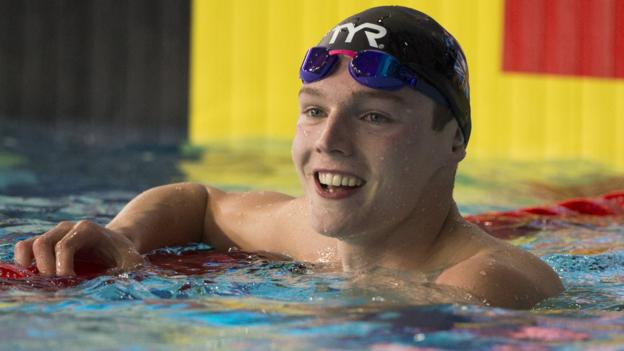 Heightened expectations and pressure to win medals "do not bother" Commonwealth gold medallist Duncan Scott.
The swimmer, 21, earned six medals on the Gold Coast – a record Games haul for a Scottish athlete – and four at the Glasgow European Championships.
He has been voted National Lottery athlete of the year but says his "growing" profile "will not faze me".
"People can think what they want, put pressure on me but I won't read into it," Scott told BBC Scotland.
"If I swim well, I swim well. If I don't, I don't. I won't look at things online or anything about swimming. I love the sport but a lot of this side stuff I don't really look into."
A double-silver medallist in two relay events at the Rio 2016 Olympic Games, Scott helped Team GB to 4x200m freestyle relay gold at the World Championships the following year.
His six-medal tally in Australia, including a stunning 100m freestyle victory, and collection of three golds and a silver in Glasgow capped a fine 2018.
Scott's next major target is sealing qualification for the British World Championships team – a task he says gets "harder year on year" – that will travel to South Korea in August.
"I didn't go into this year looking to try and do what I've done – it was more one race at a time – but I'm delighted with how things have gone," Scott said.
"British swimming has quality and quantity now. That's great and you could say it's down to the immense lottery funding British swimming has had over the last couple of years. I'm one of many that have got to thank the lottery for what they've done."