Russia calls on IAAF to lift athletics ban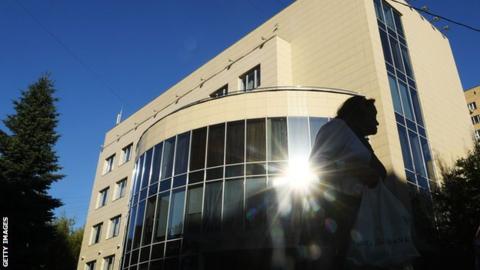 The Russia Athletic Federation (Rusaf) has called on athletics governing body the IAAF to lift its ban on its athletes and has launched a legal challenge to overturn it.
Last week Wada ended its three-year suspension of Russia's anti-doping agency.
But the IAAF's ban is still in place.
"We are guided solely by the interests of fairness, justice and equal treatment of clean athletes," Rusaf said in a letter to the IAAF.
The Russian anti-doping agency (Rusada) had been suspended since 2015 over alleged state-backed doping after it was accused of covering up drug abuse – including while the country hosted the 2014 Sochi Winter Olympics – in a Wada-commissioned report.
Earlier this month Wada's compliance review committee recommended reinstatement after it received assurances from the Russian sports ministry that the country had "sufficiently acknowledged" failures.
But Russia remains suspended from International Paralympic Committee (IPC) events and also from athletics, although some have been allowed to compete as neutrals in international competition after proving their anti-doping credentials.
Both the IPC and athletics' governing body, the IAAF, have already established their own taskforces to investigate Russia's compliance.
The IAAF taskforce will report back to a council meeting in December.
In the letter to the IAAF, first reported by the Times, Rusada said: "Given that the outstanding criteria for Rusaf's reinstatement, according to the latest IAAF council meeting in July, were essentially identical to those that Wada's executive committee has now considered met, and that time is of the essence, we respectfully request the IAAF decide to reinstate Rusaf as soon as possible.
"We are at your disposal to discuss the next steps at your earliest convenience.
"In the meantime, however, we have no choice but to file an appeal to the Court of Arbitration for Sport (CAS) against the IAAF council's decision in July by which the IAAF Council decided to extend Rusaf's membership suspension."
Speaking last week, IAAF president Lord Coe said: "IAAF has its own set of criteria for the reinstatement of the Russia Athletic Federation. We will continue to rely on the taskforce and our clear roadmap for their reinstatement until we are satisfied that the conditions have been met."