Ryder Cup: US team 'one of the strongest' says Europe captain Thomas Bjorn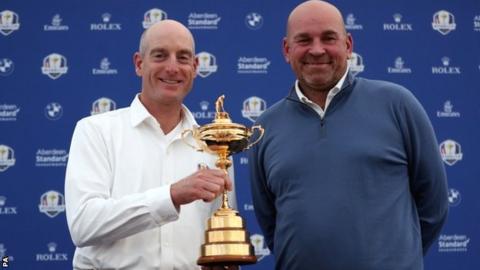 Europe will face "one of the strongest American teams of all time" at the Ryder Cup this week but "do not fear anyone", says captain Thomas Bjorn.
The US team for the event, which starts on Friday, contains the winners of six of the last eight majors.
Tiger Woods will also play for the US, having won his first event for five years on Sunday.
"We don't fear anyone because we have played against them so many times before individually," Bjorn said.
"These are 24 of the best players in the world, when they go up against each other they are all capable of amazing things.
"We will go out and do what we can and play our game.
"We know this is one of the strongest American teams of all time and we have to play our best."
US captain Jim Fuyrk said Woods' win at the Tour Championship in Atlanta has brought an extra "buzz" to his team.
"Not that this event needs more energy, it is probably the biggest, the grandest event in golf, but [Woods' win] will add excitement I believe," Furyk added.
More to follow