Stokes 'could have killed man in fight'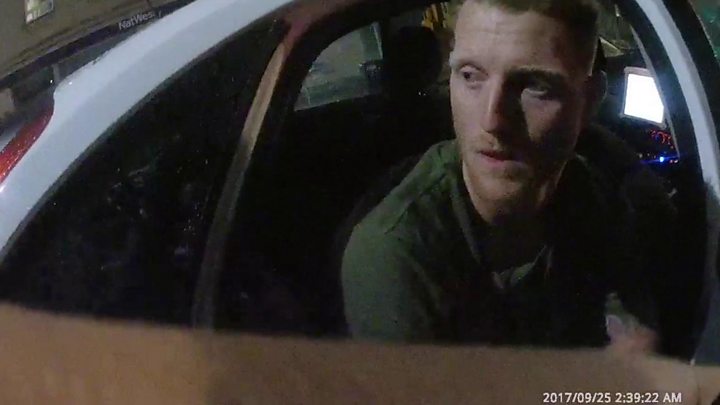 England cricketer Ben Stokes has told a court he did not make homophobic comments before an alleged brawl outside a nightclub.
The Durham all-rounder is one of two men accused of fighting in Bristol on 25 September 2017.
At Bristol Crown Court Mr Stokes, 27, denies affray and has begun giving evidence in his defence.
Ryan Ali, 28, has also pleaded not guilty to affray while Ryan Hale, 27, was acquitted of affray earlier.
Giving evidence in his defence, Mr Stokes was asked by his barrister Gordon Cole QC if any of his actions towards two gay men outside Mbargo nightclub were homophobic.
Mr Stokes told the court: "Definitely not. The only comments between myself and this gay couple was about what we was wearing that night."
The cricket star also refuted an allegation made by doorman Andrew Cunningham that he had flicked a cigarette at the gay couple.
"I don't remember flicking my cigarette towards anyone," he said.
Mr Stokes confirmed he was in Bristol at the time of the incident, having been playing for England.
He told the court that after a match against the West Indies he may have had a beer to celebrate the win and then two or three pints of lager with his meal.
After the meal, Mr Stokes and some of his England teammates got taxis into Bristol city centre and went to Mbargo.
His barrister Gordon Cole QC asked: "Were you drunk?"
"No," Mr Stokes replied.
The Durham all-rounder said the group went into Mbargo before a large group decided to go to the Pryzm nightclub instead.
Mr Cole showed the jury a photograph of Mr Stokes and teammates James Anderson, Jake Ball and Alex Hales taken outside Pryzm.
Mr Stokes described his face as a "pretty stupid face".
His barrister said: "There might be a suggestion that this photograph suggests your demeanour. Were you in a bad mood?"
Mr Stokes replied: "No."
The court heard earlier that former soldier Mr Hale told police in a formal interview he believed Mr Stokes could have killed him.
He added: "I'm a dad. He could have killed me. I don't know why he didn't stop."
Mr Stokes, of Castle Eden, Durham, and Mr Ali, of Bristol, both deny a joint charge of affray.
The trial continues.