Stokes 'mocked gay men before fight'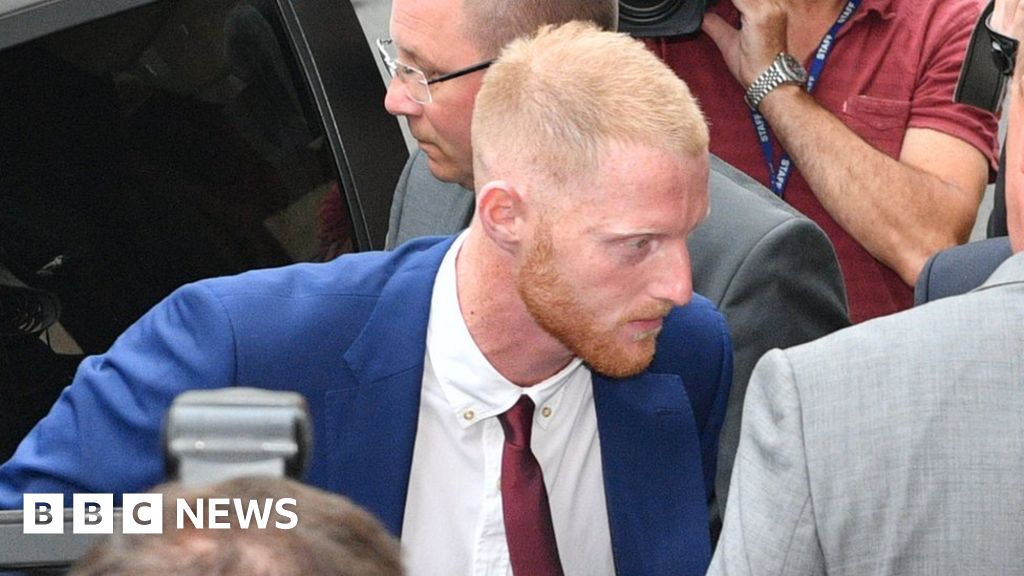 England cricketer Ben Stokes mocked two gay men and flicked a cigarette butt at one of them before brawling with two other men, a court has heard.
The Durham all-rounder, who will miss the second Test against India at Lord's, denies affray.
Bristol Crown Court heard Ryan Ali, 28, and Ryan Hale, 27, were knocked unconscious by Mr Stokes in Bristol on 25 September 2017.
They also deny affray and are on trial alongside Mr Stokes.
The fight outside a nightclub was "a sustained episode of significant violence" in which Mr Stokes "lost control", jurors were told.
Nicholas Corsellis, prosecuting, said Mr Stokes, 27, had "started to attack" Mr Ali and Mr Hale "with revenge, retaliation or punishment in mind".
Broken eye socket
He said: "He knocked Mr Hale unconscious and then – after time to pause for thought, to calm – he did exactly the same to Mr Ali."
Mr Corsellis described Mr Stokes's actions as "well beyond acting in self defence or defence of another".
An altercation took place in the Clifton Triangle area of the city just after 02:00 BST after the three defendants had left a nightclub, the prosecutor said.
The court heard Mr Ali had sustained "significant injuries", including a broken eye socket.
Mr Corsellis told the jury a bottle was used at the beginning by Mr Ali, and a broken street sign brought into the fray towards the end by Mr Hale.
The defendants had been drinking in Mbargo nightclub, with the fight taking place after it closed, jurors heard.
Mr Stokes and his teammate Alex Hales left the nightclub at 00:46 but had returned at 02:08.
Bouncer Andrew Cunningham explained to the pair the club was closed and they would not be allowed in.
However, an "obviously upset" Mr Stokes became "aggressive" and insulted Mr Cunningham about his appearance, jurors heard.
Mr Cunningham said Mr Stokes's attention then turned to two "openly gay" men – Kai Barry and William O'Connor – outside the venue.
He claimed the cricketer had mimicked their voices and mannerisms in what he described as "a derogatory way".
Mr Corsellis said CCTV footage showed Mr Stokes "copying hand gestures made by the men", while the bouncer claimed he had flicked a cigarette butt at Mr O'Connor.
"Mr Stokes's behaviour outside the nightclub sets an important tone for what happened that night," the prosecutor said.
"He was clearly frustrated and annoyed. He took to acting in a provocative and offensive way."
Only the defendants know precisely how the fight started, Mr Corsellis told the court, which was shown further CCTV footage of the incident.
Mr Corsellis said Mr Stokes was not acting in self-defence but was pursuing the other men in "retaliation".
"Everybody except him wants it to stop," he told the jury.
He said that in the footage Mr Stokes' England teammate Mr Hales could be heard to say: "Stokes, Stokes, that's enough."
Mr Ali said "move away, move away" and Mr Hale said "stop, stop", Mr Corsellis told the court.
Eyewitness Jess Thomas was woken up by noise from the street and frightened by seeing "five or six men rolling around", the court heard.
Another eyewitness, Laura Sweeney, said she saw Mr Hale pull a metal leg from a road sign and run towards the other men.
Mr Stokes, of Castle Eden, Durham, was arrested in the early hours along with Mr Ali, of Bristol, and Mr Hale, of Westbury-on-Trym, Bristol.
The fight took place several hours after England had played a one-day international against the West Indies at the city's County Ground.
The trial continues.