Victorious Europe left egos behind – Bjorn
Europe were victorious in the Ryder Cup because they "left their egos at the door", said captain Thomas Bjorn.
Splits in the United States team have emerged after they lost 17½-10½.
Patrick Reed said Jordan Spieth did not want to play with him, despite the pair winning five points together in 2016 while Brooks Koepka and Dustin Johnson reportedly had a bust-up.
"There's no superstars in our team," said Bjorn. "When they are in the team room, they leave egos at the door."
The US, boasting 11 of the world's top 17 players, were favourites beforehand to win on European soil for the first time in 25 years.
But before the event only three had played a competitive round at Le Golf National, near Paris, and Europe lifted the trophy for the seventh time in the last nine events.
After victory, the winners talked of their team spirit, a 'love-in' on their WhatsApp messaging group and Bjorn's promise to get a tattoo should they win.
Meanwhile, Masters champion Reed criticised captain Jim Furyk's decision to leave him out of two sessions and hinted that Europe were more together as a team.
"Every day [in the team room] I saw: 'Leave your egos at the door,'" Reed, 28, told the New York Times. "They [the Europeans] do that better than us."
Reed played with Spieth in 2014 and 2016, winning four and halving two of their seven matches, but in Paris he partnered Tiger Woods – losing both fourballs matches before winning his singles match – while Spieth won three points with Justin Thomas.
Reports also suggested Koepka and Johnson, who lost together in Saturday's foursomes, had to be separated following a row at Europe's victory party on Sunday night.
Bjorn told BBC Radio 5 live he saw the pair in the European team room but did not witness any dispute.
"Everything looked great when I saw them. They're great friends and I'd be surprised if there is too much to these stories," said the Dane.
"Jim made decisions with his pairings and when I looked at his pairings I thought: 'This looks good, it looks strong.'
"And the one thing about Jordan Spieth, is that him and Justin Thomas have been friends since they were kids. I probably, as a captain, would have liked them to play together because they do know each other very well"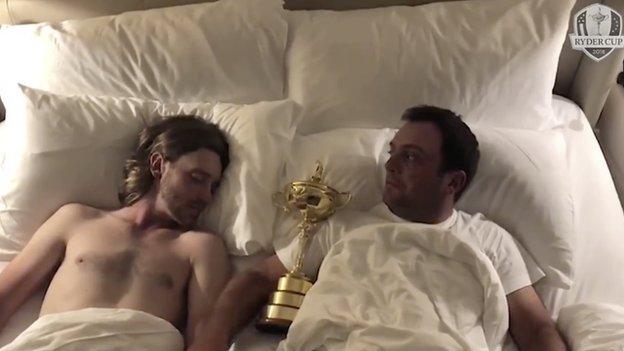 Bjorn said personality was perhaps more important than purely golf ability at the Ryder Cup.
"When you look at the stars in world golf like Rory (McIlroy) and Sergio (Garcia) that have achieved many great things, they never come into that team environment and feel they are more than anyone else," he said.
"They lift each other together. I've seen it time and time again in European team rooms, and this one was right up there with the best."
He called the pairing of Italian Francesco Molinari and England's Tommy Fleetwood "the best bromance ever".
Molinari sealed victory with a defeat of veteran Phil Mickelson in the singles to become the first European to score a maximum five points, four of which came with Fleetwood at his side.