Williams learned before Konta loss that half-sister's killer now free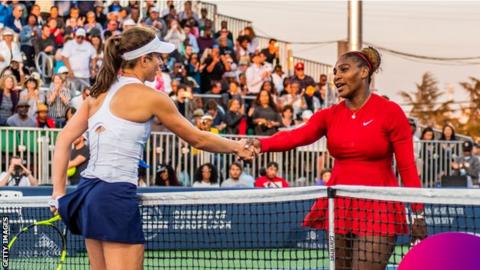 Serena Williams says she discovered just minutes before her match against Johanna Konta last month that the man convicted of killing her half-sister had been released on parole.
Briton Konta inflicted the worst defeat of Williams' career by winning 6-1 6-0 in the first round of the Silicon Valley Classic in San Jose.
Williams' elder half-sister Yetunde Price was shot dead in 2003 aged 31.
"I couldn't shake it out of my mind," said the 23-time Grand Slam champion.
Robert Maxfield was jailed for 15 years in April 2006 and Williams, 36, attended the sentencing.
She told Time magazine: "No matter what, my sister is not coming back for good behaviour."
Price was shot dead in Compton, Los Angeles. Her children were 11, nine and five at the time.
"It's unfair that she'll never have an opportunity to hug me," Williams said.
"It was hard because all I think about is her kids – what they meant to me and how much I love them.
"I would like to practise what I preach, and teach [daughter] Olympia that as well. I want to forgive. I have to get there. I'll be there."
Williams clashed with coach over breastfeeding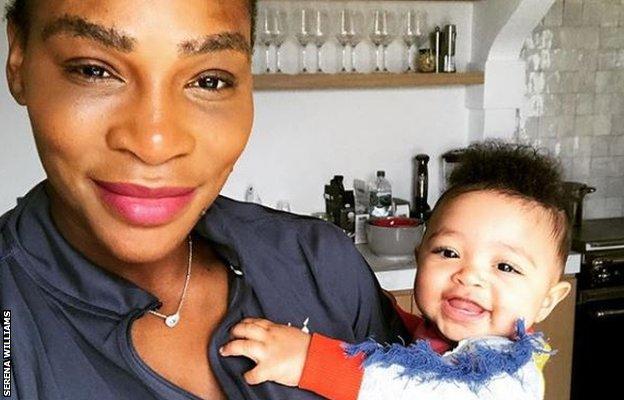 Williams returned to the women's tour earlier this year after giving birth to Olympia last September and breastfed for the first eight months.
But she was told by her coach Patrick Mouratoglou to stop breastfeeding as she arrived in France for clay court training, adding it was "hard to take from a guy".
"He's not a woman, he doesn't understand that connection, that the best time of the day for me was when I tried to feed her," she said.
Mouratoglou said the former world number one began to make decisions "through the angle of the family", adding "tennis has to be the priority".
Williams said she eventually listened to Mouratoglou to "get her body back".
She has also revealed she "fell victim" to social media pressure, using a waist trainer to make her stomach appear smaller for a picture she posted of her post-pregnancy body on Instagram.
"I hated that I fell victim to that," she added. "It puts a lot of pressure on women, young and old."
'That's not being Serena'
The US Open gets under way in less than two weeks, with Williams vying for a seventh singles title at Flushing Meadows.
Williams, who was runner-up at Wimbledon in July, admitted she is at the "start of a long comeback" after losing in the second round of the Cincinnati Open to Czech Petra Kvitova on Tuesday.
She returns to New York having lost in the US Open semi-finals in both 2015 and 2016.
"I'm trying to get a new vibe there," said the world number 27.
"But I'm not going in there thinking I'm going to lose. That's not being Serena. That's being someone else."